As many of us become more conscious of what we're putting in our bodies, we're also turning to clean makeup brands. While the performance of these cosmetics used to pale in comparison to products from our favorite makeup counters, there are many 100-percent plant-based makeup brands creating products that are richly pigmented, apply beautifully, and wear as well as their more synthetic competitors. You may already be using some of them without even realizing they're clean.
Thanks to growing consumer concern and education, we're definitely seeing an uptick in the use of the phrase "clean beauty." As consumers, it's never been more important to prioritize what we want in our makeup, and our money talks. These days there's a clean option to switch out every product in your makeup routine, so it's never been easier to avoid controversial ingredients. Let's look at some brands that are changing the cosmetics game.
Jones Road
If this is the first time you're hearing about Jones Road, listen up because it's not one to pass up. Founded by legendary makeup artist Bobbi Brown (you definitely know the namesake brand that she stepped down from in 2016), Jones Road is all about bringing minimalism and quality to the clean beauty community.
Honest Beauty
Here's the honest truth — experts love Honest Beauty because it's a line of quality makeup and skin-care products that contain good-for-you (and the environment) ingredients. Founder Jessica Alba created The Honest Company back in 2015 but re-branded it in 2018 with minimal packaging and a simplified product lineup.
Westman Atelier
Makeup artist Gucci Westman created Westman Atelier with the idea of making a luxurious yet clean collection. Some of the skin-nourishing ingredients featured in the products are jojoba oil and coconut oil to ensure skin stays moisturized with any makeup application.
LYS Beauty
LYS Beauty — which stands for "love yourself," by the way — has a lineup of clean makeup products that are as pigmented and high-performing as they are non-toxic. Founded by Tisha Thompson in 2019, this independent and clean beauty brand was the first Black-owned company to launch under Sephora's Clean Color Cosmetics program. The line contains complexion products with wide shade ranges and each formula is made with plant-based ingredients that are free of gluten, talc, SLS, fragrance, and mineral oil.
Rose Inc.
Yes, a celebrity beauty brand found its way onto this list, but Rosie Huntington-Whiteley's makeup and skin-care line, Rose Inc., deserves every bit of praise. Each product under Rose Inc have impressively opaque yet blendable formulas. The formulations leave out over 2,000 ingredients, and the brand even offers a virtual ingredient gallery to learn about each one that did make the cut.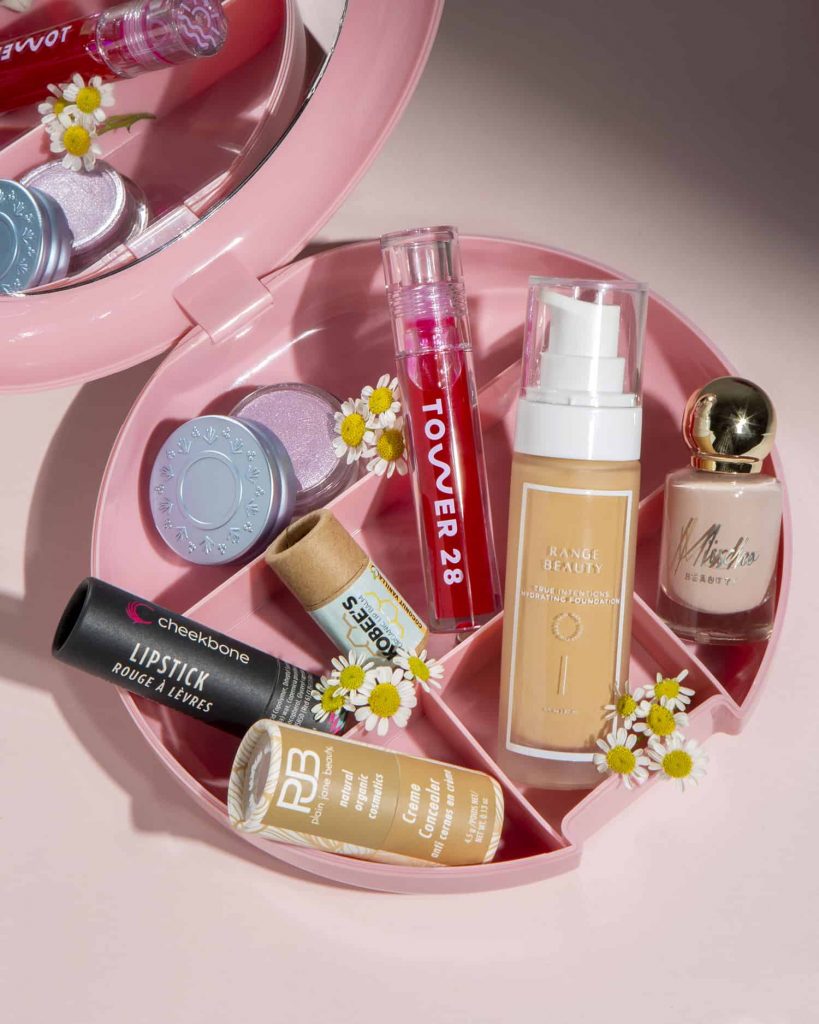 Tower 28
Tower 28's ultra-gentle cosmetics and skin-care products were inspired by brand founder Amy Liu's journey navigating the makeup market with sensitive, eczema-prone skin. Since its 2019 launch, the brand has been following the National Eczema Association's Ingredient Guidelines for formulating each and every product that hits its virtual shelves.
Merit
Merit, a thoughtfully curated brand of dew-enhancing products, follows the European Union's cosmetics regulation standards and avoids over 1,300 ingredients in its products. However, it does treat your face to beloved skin-care ingredients like hydrating squalane and moisturizing vitamin B5 in its products. This minimalist beauty brand is great to shop when you're looking for glow-inducers like tinted lip oils and highlighting balms.
Saie
Saie, pronounced "say," is one of the newer makeup brands that everyone seems to be talking (and posting) about. Founded in 2019 by Laney Crowell, this nine-piece cosmetics collection aims to become your go-to for essential basics — think goof-proof brow gels, lightweight tinted moisturizers, and a cushiony marshmallow-textured highlighter. The fan-favorite brand avoids 59 ingredients like synthetic fragrances (which can cause skin irritation) out of its formulas.
Ilia Beauty
Ilia Beauty is focused on creating clean, pure products with organic bio-active botanicals that nourish skin as they wear. From lipstick to eye shadow and multiple base products, Ilia's products give you a luxurious feel, look, and wear, while being some of the cleanest makeup you can use.
Victoria Beckham Beauty
Victoria Beckham has always been a style icon, and now her namesake cosmetics line has made her a legend in beauty as well. Victoria Beckham Beauty is as luxe as luxury beauty gets, except, unlike a few department store name stays, it follows a rigorous formulation guideline called The V-Standard. Under this initiative, the Posh Spice-founded brand vows to leave out ingredients including mineral oil, synthetic fragrances, and more than 1,300 other additives that the European Union has banned.
Are there any other clean brands we should know about? Let us know in the comments below.