Are you sure you know about the miraculous effects of honey on your health and beauty? You might not believe it, but honey has proved its efficiency in enhancing health and beauty through the ages. Please read on to learn more about honey's benefits to your health and beauty!
How do we get honey?
Bees drink nectar from colorful flowers and store it in their stomach. Then, the nectar in there reacts with enzymes to transform into honey. After that, the bees deposit the honey in honeycombs, adding water to it to achieve more viscosity in the mixture. Moreover, they seal the honeycombs with beeswax storing the honey made as food for winter. Did you know that an average bee hive can collect around 30 kg of extra honey a year?
What are the kinds of honey?
There are many kinds of honey available. They can be differentiated according to their color, texture, and taste, depending on the flowers they are made from. Some examples of varieties of honey are:
Lychee honey is white and is used for its specific flavor and fragrance.
Eucalyptus honey has an extra light amber color and special medicinal values.
Sunflower honey has a beautiful golden yellow color and is a pleasant flavor.
Multiflora Himalayan honey is conceived from Himalayan flowers and has a unique taste.
Acacia honey is colorless and is obtained from the acacia tree's blossoms.
Forest honey is dark-colored and rich in nutrients.
What are the benefits of honey to your health and beauty?
Honey fights acne
As you know, acne on your skin forms when blocked pores are infected with bacteria, causing inflammation. Therefore, you don't need to worry because honey can cure your acne problem in many ways. First, honey acts as a deep skin cleanser and removes all the impurities from your clogged pores. It then soothes the inflammation by controlling the infection due to its strong antibacterial properties. Moreover, honey is an excellent moisturizer for your skin and thus, decreases the risk of further infection. Surprisingly, you can also use honey for its moisturizing property on an oily skin type!
Honey treats blemishes
Needless to say, acne leaves scars on your pretty face after treatment. The acne scars are also called blemishes and take a long time to fade. However, you can use honey to make your stubborn blemishes disappear quickly, as it has the unique ability to lighten scars.
Honey heals wounds
Ayurveda, traditional medicine, and other alternative medicine practices use honey as a potent antioxidant and antibacterial. It is because its antioxidant and antiseptic properties speed up your wound healing process. For instance, honey is effective for bacterial infections, burn wounds, and pressure ulcers. It also prevents further infections. In addition, research by the University of Auckland in New Zealand proved that you could use this sweet syrup as a wound dressing that treats infection by reducing the proliferation of bacteria and decreasing inflammation!
Honey is an anti-aging agent.
The antioxidant property of honey certainly makes you look younger! It is because it miraculously slows down your aging process by diminishing wrinkles on your skin. Moreover, this natural humectant keeps your skin moisturized, hence making it less prone to aging!
Honey makes your skin glow.
Honey contains sugars that play the role of natural emollients that moisturize the outer layer of your skin. They do so by increasing the humid layer over your skin and retaining its moisture for a long time. However, the enzymes found in honey penetrate your skin deeply to moisturize it. Therefore, regular use of this nature's gift will enhance your complexion and make it glow! No wonder honey is the main ingredient for many beauty products!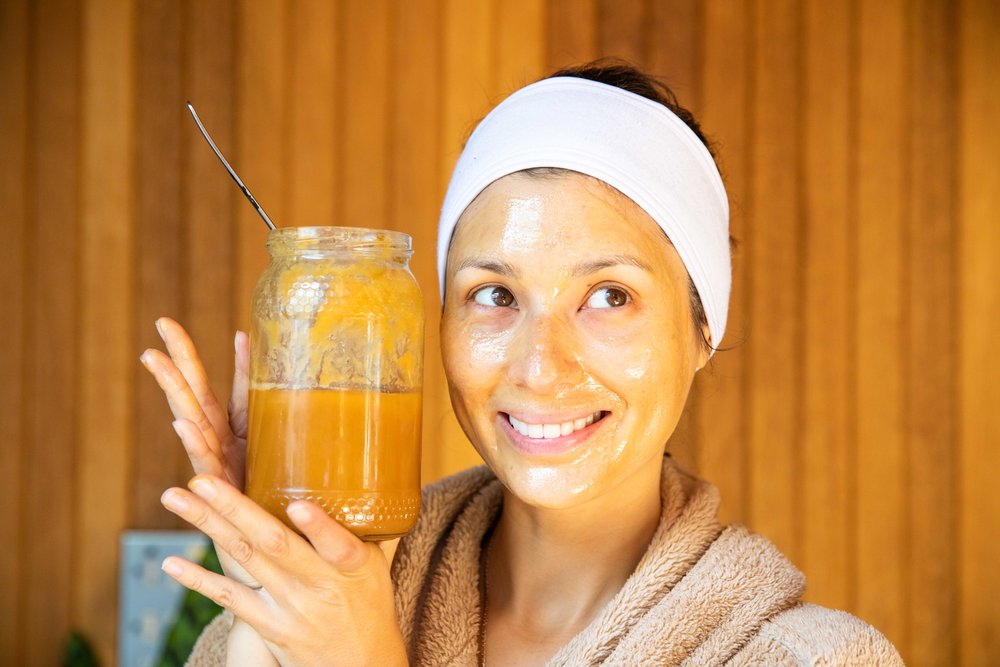 Now, you have learned all the fabulous benefits of honey to your health and beauty. It treats infection, slows down aging, and keeps your skin glowing! Amazingly, in India, they often call this pure and golden syrup the nectar of the Gods! The reason for it is honey's existence in ancient Ayurveda, also known as the practice of herbal medicine. Another interesting fact is this sweet syrup has also been found in thousands of years old paintings in Georgia and Valencia! You must use it to experience its astonishing properties! Please share your comments below!