Are you one of those people who has lipstick floating around in every purse? And everything is always under your foundation because you lose the caps? From now on, that's a thing of the past because we're here to give you different ways to store your makeup. With these tips, your makeup collection will be neat and organized in no time!
1) Lipstick
The easiest thing to do is to store your lipstick upside down. Uh, upside down? Yes, the lipstick's name and color are (usually) on the bottom of the lipstick. If you turn them upside down, you can see at a glance which lipstick it is.

Tip: at IKEA, you can find several items to make your boxes to use for your lipstick. But you can also do it yourself with these guides.

Don't have that many lipsticks in your collection? Then choose a small makeup bag or case that you can use to store your lipstick in. You can find them in any makeup store, and they are super handy!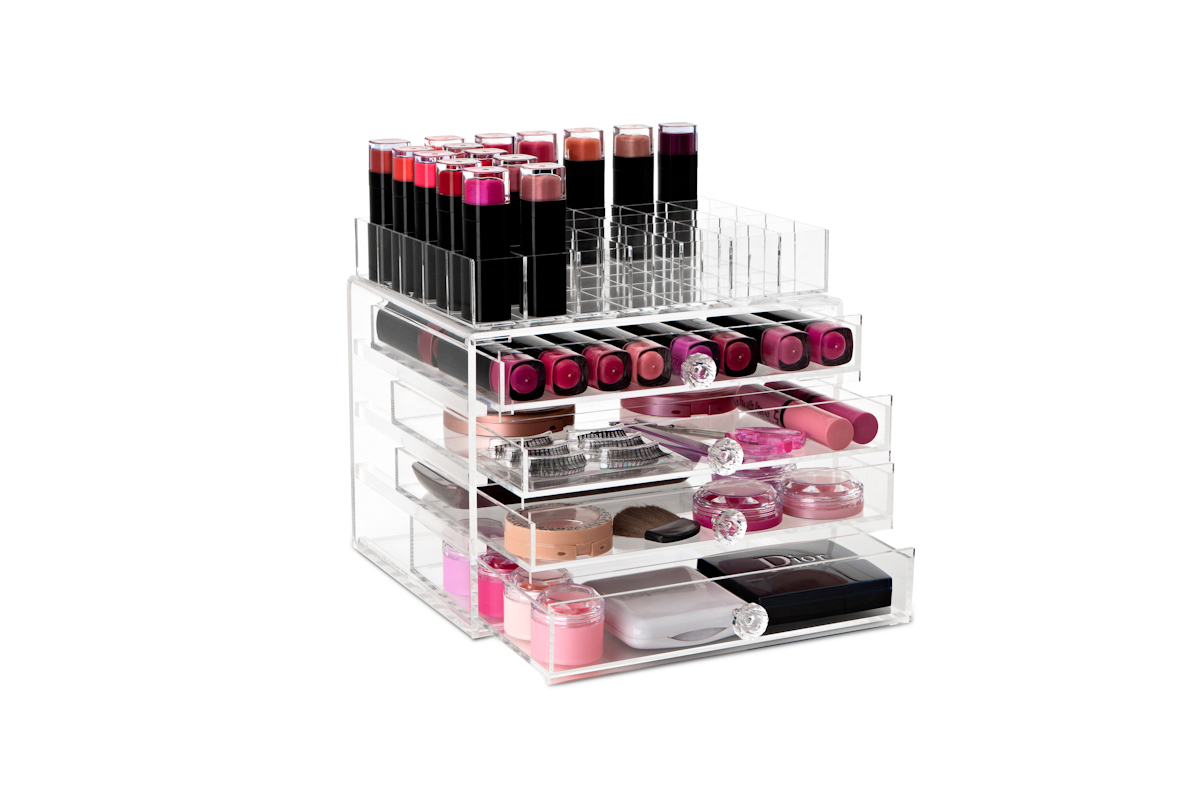 2) Lip Gloss
Do you have extra storage at home for your shoes? You know, one of those that you hang on the wall? Did you know that you can also use it to store your lip gloss? Hang it on the door or inside your closet to save space.
3) Foundation
Don't know what to do with those clumsy bottles and pumps? In many stores, you'll find special shelves/ containers for plants and herbs. These are ideal for storing your foundation. Since they hang on the wall, they don't take up much space, and you can have everything easily at hand.
4) Brushes
For your brushes, it's best to keep them upright. So, choose a nice container or jar to store your brushes in. You can use old glasses, jars or flower pots. For a unique effect, give the jar your touch with paint, a quote, or a ribbon. Pretty and practical at the same time!
5) Mascara and Eye Pencil
Choose a jar or glass to hold your mascara and eyeliner pencils. They take up little space, and you'll immediately see what you're looking for. The products aren't standing upright? Then put some coffee beans, beads, or stones in the glass.
Tip: save candle cups for storage.
6) Eyeshadows and Blushers
These products can be quite tricky to store. Of course, you can opt to keep them in a container, but it's not very clear? Do you have a lot of loose eyeshadows? Then it is convenient to collect them in a palette. There are special magnetic palettes for sale that you can fill yourself with your eyeshadows. It takes some time to get it all out of the container, but nothing that scissors and magnetic tape can't do.

Of course, this also works for blusher, but it's easier to put it upright for an overview. Do you have any magnetic tape left? Then you can also make a magnetic board for your favorite blusher. To do this, take an old frame and give it a coat of magnetic paint. Put a lovely print on the picture and paint the frame in your favorite color. Now put the tape (or regular magnets) on your makeup and tada! Super stylish and practical.
With these tips, keeping everything in your makeup collection neat and organized doesn't have to be a chore anymore. There are several ways to keep your makeup and accessories organized, so you never lose them again. Do you have any other tips? Share it with us in the comments below!