Professional teeth whitening is often an efficient, safe and effective choice for brightening your smile. But there's plenty to consider, including cost, your lifestyle habits and whether a comprehensive in-office treatment or a custom take-home-tray is the better choice. The two main products used for teeth whitening are hydrogen peroxide and carbamide peroxide. Unlike a whitening toothpaste that uses an abrasive ingredient to mechanically remove surface-level stains, the oxygen molecules within these whitening agents weaken your tooth stains on a molecular level.
Many over-the-counter (OTC) whitening strips, kits and pens also use a form of peroxide. The difference between these and professional teeth whitening is the chemical concentration. Like at-home whitening products, there are a variety of professional teeth whitening methods. In-office professional whitening is a quicker, albeit more costly way to lighten up your pearly whites. Meanwhile, custom take-home trays fall somewhere between in-office professional whitening and an OTC whitener in terms of treatment time and cost.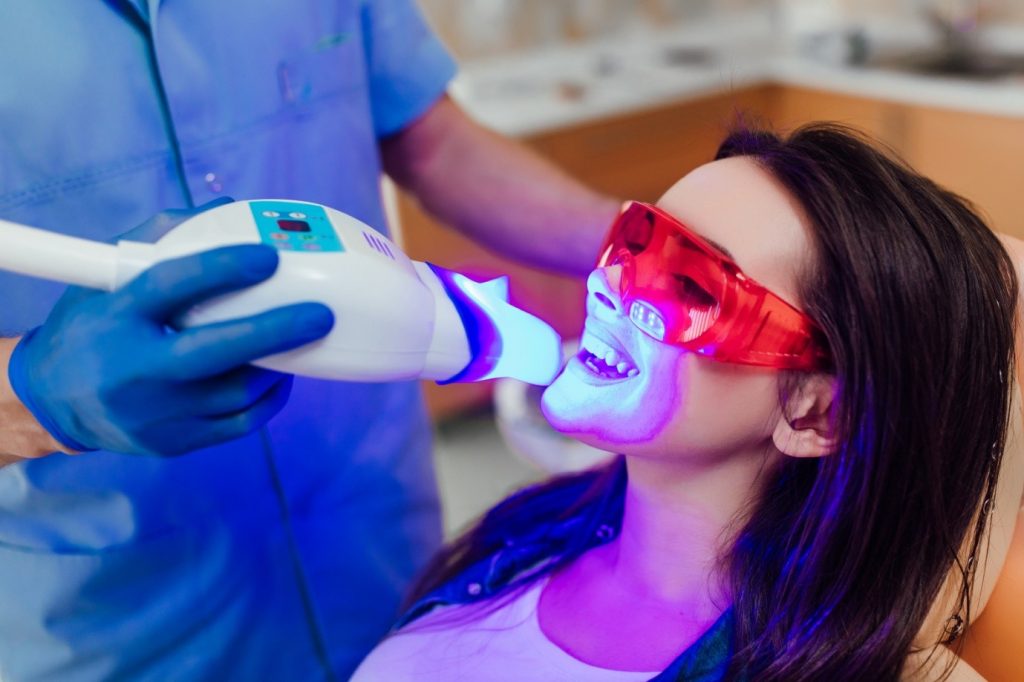 In-Office Whitening
In-office professional whitening treatments are typically completed in several short appointments but will depend on your unique needs. A whitening agent is left on for 15- to 30-minute increments, and the entire appointment should take no longer than an hour and a half.
What to Expect at an In-Office Teeth Whitening Appointment
In-office whitening typically involves several steps:
Your dentist will use a tooth shade chart to determine the current shade of your teeth. You'll discuss how many shades lighter your smile may become after whitening.
Your dentist will then use a pumice tool to polish your tooth and remove any remaining plaque.
To ensure the whitening agent doesn't touch any fleshy parts of your mouth like your gums, cheeks or tongue, your dentist will use tools to keep your mouth open. A barrier is placed along the gum line.
Your dentist then applies the whitening agent and leaves it on for up to an hour. This is also when your dentist would use light activation if that's part of your treatment.
If the specific whitening agent requires additional coats, your dentist will reapply it.
Once the whitening process is complete, your mouth is rinsed. Your dentist may apply fluoride, which will help mitigate any potential sensitivity.
You and your dentist discuss if your teeth have reached the desired shade and the lifestyle habits you'll need to practice for the next day or so to let the whitening agent sink in. These include not eating brightly colored foods and resisting coffee and red wine. Immediately after whitening, your teeth are dehydrated, making them extra susceptible to liquid and food stains.
Even if you stick to your dentist's recommended regimen of resisting bright foods, coffee and wine, your teeth may appear a bit darker a few days after whitening. But don't be discouraged. The dehydration caused by teeth-whitening makes them look immediately bright right after your procedure. After a week, if your teeth are not at your preferred shade, speak with your dentist about whether or not there's potential for them to become lighter with at-home products or more in-office visits.
Take-Home Trays
While in-office whitening is fast, custom take-home trays require some diligence on the part of the patient. They may be your only treatment or a follow-up treatment to in-office whitening if your dentist believes your smile is prone to getting new stains again soon.
With a professional take-home-tray, your dentist will make an impression of your teeth for a custom-fabricated tray. Because this tray will fit perfectly to the shape of your mouth, it will typically give you more comprehensive whitening results than OTC trays. Instead of a hydrogen peroxide-based gel, you'll most likely get a carbamide peroxide-based gel to place in the tray and use at home. Even though it doesn't whiten as quickly as a hydrogen peroxide-based gel, you're less likely to experience sensitivity if you accidentally get it on your gums, cheek or tongue.
The concentration of the gel your dentist gives you for your custom-fit trays ranges from 10% to 38% carbamide peroxide. Your duration of treatment will also vary, from wearing your tray from two to 10 hours a day, and for up to 28 days. Over-the-counter trays come with a similar percentage of carbamide. The difference in quality is in regards to fit. A custom tray will fit directly around your teeth, giving little room for the gel to slip up to your gums or miss whitening hard-to-reach crevices.
In-Office Whitening Vs. Custom Take-Home Trays
While both at-home whitening and in-office whitening are effective under the supervision of your dentist, there are a few major differences.
Cost: Custom, take-home-trays are more affordable than in-office whitening, but still more expensive than over-the-counter trays and other at-home whitening products.
Time: Your dentist can usually complete in-office whitening treatments in one or two appointments, depending on the severity of your stains and your dentist's thoughts on how many shades whiter your teeth can become. Each session is usually 60 to 90 minutes at most. Meanwhile, you'll need to wear your custom, take-home-trays several hours a day for up to a month. For ideal results, your dentist may recommend a custom-fit tray for touch-ups even after in-office whitening.
Longevity: No tooth whitening treatment lasts forever. But you still want to do everything you can to keep your pearly whites shining bright for months and years to come. Experts recommend continuing a rigorous oral care routine, cutting out bright colored foods, coffee, red wine and soda, and using over-the-counter touch-up products.
When it comes to which treatment will last longer, there's no definite answer, although with custom trays, frequency is key. You can wear at-home trays regularly for up to three to five years, whereas an in-office visit may be complete in one or two sittings. That means the bright shade of your teeth while using trays may last longer, since you can order a professional whitening agent from your dentist to be used at home in your reusable dental tray for touch-ups.
How to Decide if Professional Teeth Whitening Is for You
Wondering if you're the ideal candidate for professional teeth whitening? If you want to go at least two shades lighter and don't want to experiment with OTC treatments—or have tried them without much success—a professional treatment could be for you. Consider contacting Westmead Smile Centre today for further information.