Over time, fashion has been heavily influenced by queer culture. A round-up of iconic fashion shows reminds us of the immense impact of LGBTQ+ culture on the fashion industry. When we think of some of the most influential designers of the last century, many of them were gay; from Yves Saint Laurent to Christian Dior to Cristóbal Balenciaga. However, during their lives, they were forced to hide their sexual orientation due to the oppression of minorities in society.
But in the 80s, fashion icons like Rudi Gernreich, Willi Smith, and Stephen Burrows began to introduce queer culture in their runway shows and collection presentations. As in those days, we are now beginning to see a re-emergence of queer culture in the fashion industry. Young designers like Christopher John Rogers, Kelsey Randall, Patrick Church, Ludovic de Saint Sernin and many others are bringing queer visibility back into fashion in all their collections, from casting to clothing.
These proud queer designers are identifying themselves and encouraging a modern community that has long waited to be accepted in the fashion world beyond the advertising campaigns unveiled during Pride Month, one month of the year. From Chanel's "couture" lesbian brides to Sasha Velour's partnership with Opening Ceremony… Here are the most memorable tributes from the fashion sphere highlighting and celebrating LGBTQ+ culture. So, without further ado, let's dive into this blog and learn some of the ways fashion has paid homage to the queer community.
1. Thierry Mugler spring-summer 1992
The king of camp took a bow in 2002, only to return in 2019 and design Kim Kardashian West's fitted latex dress at the MET Gala. Mugler is widely known for his designs, exaggerating the curves of the body by using corsets and hip pads. In the early 90s, when most designers followed the minimalist trend, Thierry Mugler's shows were real parties punctuated by performances.
The 1992 show was memorable in this respect. It took place at the Century Plaza Hotel in Los Angeles and opened with the famous drag queen Lypsinka. The iconic performer known for her Hollywood impressions of Joan Crawford walked the runway lip-syncing to the soundtrack, slowly revealing four different looks layered on top of each other. The show's opening lasted about 5 minutes and ended with Lypsinka crawling and screaming on the catwalk all the way backstage.
2. Jean Paul Gaultier men's spring-summer 1996
Known for propelling the sailor and his homoerotic sailor impersonator, the French designer took it to the next level with his 1996 show, titled "Pin-Up Boys." The show was a look at the retrospective of male sexuality within the gay community. One of Gaultier's most recognized creations, the colorful suit worn by actor and muse David Fumero and the sailor suit, were created during this collection and exhibited at the Metropolitan Museum as part of the Met Gala that was themed Camp in 2019.
To this day, Jean Paul Gaultier still evokes queer culture in his creations. His latest haute couture show was envisioned as a spectacle, featuring dramatized passages, latex and corseted looks, and celebrities such as Dita Von Teese, the "Queen of Burlesque."
3. Walter Van Beirendonck men's spring-summer 1996 
Belgian designer Walter Van Beirendonck paid tribute to many talents in the fashion world at his 1996 show, from Willi Smith to Halston, who died in 1990 due to the AIDS epidemic. The designer from the Antwerp Six was known for his extravagant and explicit representation of current events in his work.
Celebrating the queer nightlife scene, his collection was composed of leather and latex (a nod to safe sex practices) with bright, bold colors popping off the runway. Models wore pillow-like face masks that read provocative phrases like "Get off my Dick" and "Blow Job."
4. Jean Paul Gaultier spring-summer 1998 haute couture
Jean Paul Gaultier has never been a designer limited to presenting a direct interpretation of a theme. The Enlightenment-influenced haute couture show of 1998 was one of Gaultier's first when he started couture a year earlier. Paying homage to Versaille in the "Gaultier way," the male and female models wore non-traditional frock coats (long double-breasted jackets with basques), beaded headdresses, and ruffled dresses accompanied by tight corsets over shirts and ties. The look was notably worn by the designer's muse, Tanel Bedrossiantz, and later reappeared in the Met's Camp: Notes on Fashion exhibition.
5. Alexander McQueen Fall-Winter 1998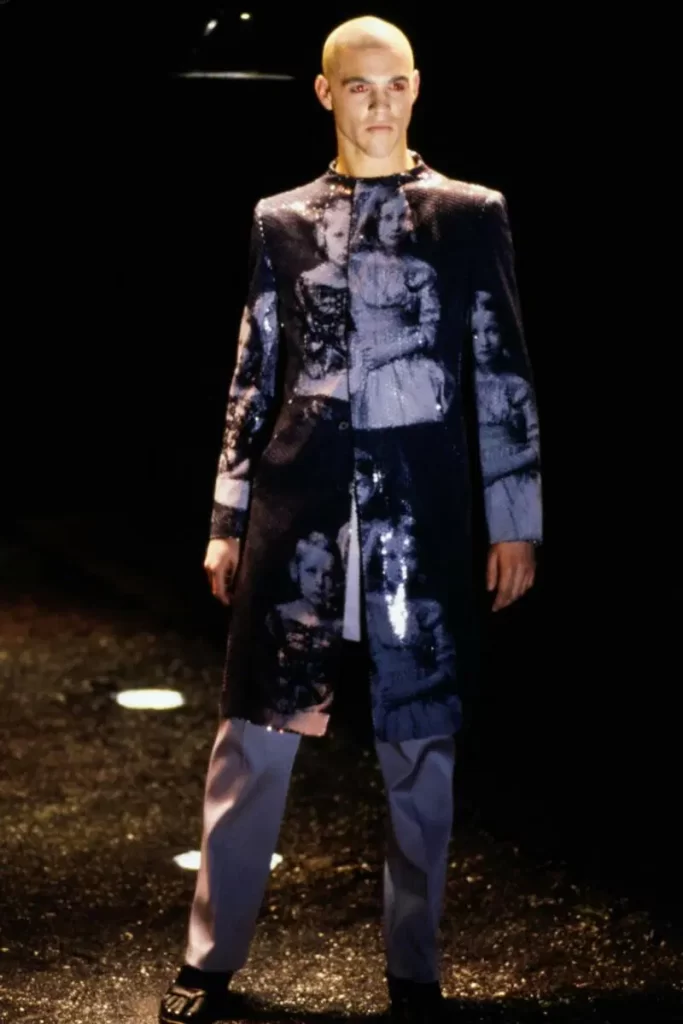 After exploring the element of water in his Spring/Summer 1998 show, McQueen took a darker turn by exploring fire for his Fall/Winter shows that same year. Inspired by the Catholic martyr Joan of Arc and the Romanov family (depicting a medieval crossover), the collection featured strict couture elements, such as chain mail dresses, armor, and designs for Romanov children.
The show featured Alexander McQueen's signature tartan and a red lace dress running down the face, later worn by Lady Gaga at the MTV Awards ten years later. The show ended with a direct tribute to Joan of Arc (who was burned at stake) with a model trapped in the fire wearing a beaded red dress that covered her face and hugged tightly around her neck.
6. Chanel haute couture 2013
In 2013, inspired by German Romanticism and Neo-Classicism, Karl Lagerfeld's Chanel fashion show differed from Haute Couture tradition and celebrated not one but two brides to close the show. A tribute to lesbians, rarely represented in the fashion world, models Ashleigh Good and Kati Nescher walked hand in hand to represent the brand's support for LGBTQ+ rights.
All this was at a time when equal marriage opportunities for same-sex couples were being debated in France. Seen as a controversial political statement at the time, the show was a true fashion vote for equality. Later that year, France passed a bill allowing same-sex couples to legally marry.
Sound off in the comments section below and tell us what you want to read next and if you want to read more about fashion.