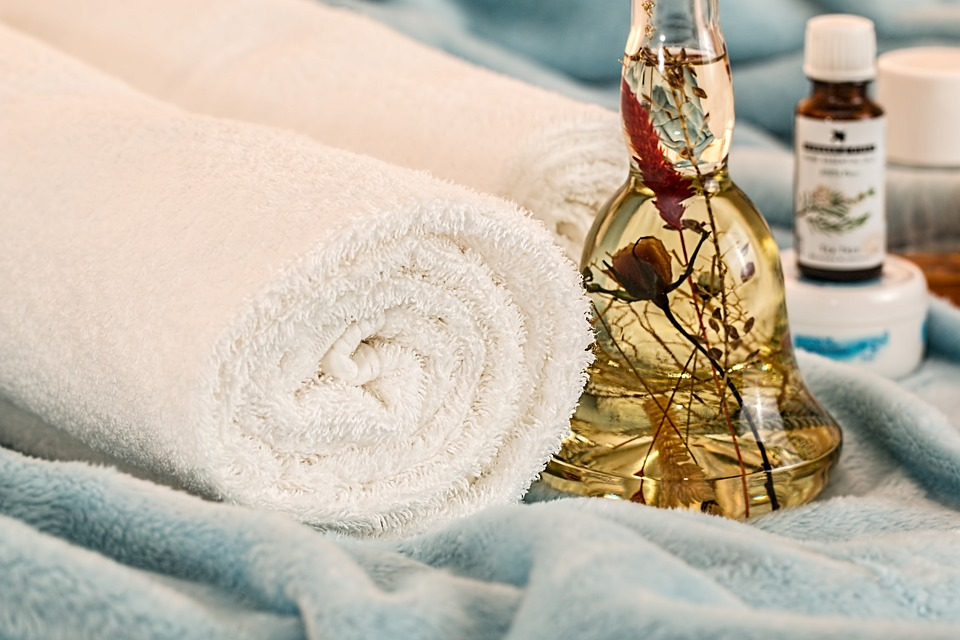 Spending a day in a sauna is lovely, but it can be pretty expensive. Still longing for a relaxing moment at the spa? Start with what you can do at home! Here are some tips on creating a home spa on a budget.
1) Make Your Home Smell Good
Start by creating the ambiance for a spa experience at home. The good news: no expensive aroma sticks or essential oil diffusers + the most delicious and lasting scent.
Fill a pot with water, put it on the stove, and add orange peel, cloves, and cinnamon sticks. Then, bring this aroma pot into your bathroom and turn your bathroom into a private spa. Light some candles, and the wellness resort atmosphere is complete.
No aroma candles in the house? Place an ordinary candle among coffee beans, and the room will be filled with the aroma of delicious coffee. Preparing a delicious drink for yourself is also a luxurious experience.
2) Steam Bath
Can you have a sauna experience without a steam bath? Moreover, according to studies, steam baths are good for blood circulation in the skin and lower blood pressure in healthy people. Be careful not to burn yourself with hot water and steam. For an extra sense of well-being, you can add a few drops of eucalyptus oil.
3) Natural Makeup Remover
Before immersing yourself in skin and hair care, you must remove your eye makeup. Coconut oil can be used for everything, even for removing makeup from your face. Apply a small amount of coconut oil to your lashes and eyelids and wipe off with a damp cotton ball.
4) Warm Towels
Warm towels are essential for a truly luxurious home spa experience. Soak several towels in hot water and wring them out, so they are moist and warm. Use for face washing and hand cleansing.
5) Face Masks From the Pantry
Once you get out of the sauna, it's time for a face mask. Not an expensive treatment or a ready-made mask from the store, but a mask you make yourself. An added advantage is that you already have the ingredients at home.
For example, prepare a simple oatmeal mask. Grind 2 tablespoons of oatmeal powder in a food processor and mix with warm water. Check the thickness of the mask.
Filling your bathtub with hot water or taking a long hot shower are no longer cheap home spas in today's high energy prices. How about a moment to treat yourself? With these tips, you can completely relax with little expense.
The mask should be thick enough to adhere to the face. Apply the oatmeal mask to the face and rinse off with warm water after 5 minutes. You can also prepare this mask with chocolate. Or apply a teaspoon of honey to the face and let it sit on the skin for 15 minutes. It is gentle on your wallet and your skin!
6) Homemade Hair Mask
Have you ever found banana shampoo or banana-scented body lotion at the store? Don't go crazy! Because yes, this hair mask is made from the popular yellow fruit! Combine a banana with a small amount of olive oil, coconut oil, and honey and blend until smooth. Apply to hair and scalp and let sit for 20 minutes. Then rinse with water. You can also prepare an inexpensive cucumber-based hair mask.
7) Homemade Scrub
Exfoliate with coffee grounds or a cold cucumber scrub? Believe it or not, it really works. You can make a variety of scrubs with familiar ingredients. For a refreshing cucumber scrub, use 1/2 cucumber, 200 g sugar, and a tablespoon of olive oil. Puree the cucumber and mix with the sugar and olive oil. By adjusting the amount of sugar, you can determine the thickness of the scrub yourself. The scrub can be kept for several days and stored in the refrigerator for longer periods.
Let us know if these few tips have helped you in creating your home spa in the comments below!