When your skin is dry, it is in its worst and most delicate state, and it can be hurt even by a minor scratch. I know irritating dry skin can be and I understand how aggravating it is to have dry skin. Therefore, I've come up with a few homemade masks you can try to treat
Avocado Mask
Creamy avocado will hydrate and refresh your skin. Half an avocado and scoop out the flesh into a bowl. Combine 1 tsp (4.9 mL) plain organic yogurt and 1 tsp (4.9 mL) raw honey. Mash the mixture until smooth, then dab it gently all over your clean face.
Let the mask to sit on your skin for 15 to 20 minutes to allow the avocado and olive oil's omega fatty acids to penetrate.
Note: Avocados are high in healthy fats and nutrients that can help your skin retain moisture. If the avocado is small, scoop out the flesh from both halves to use for the mask. You should have enough to make a mask to cover your entire face.
Pumpkin Mask
This mask will revitalize and refresh your skin. 14 cup (59 mL) fat-free Greek yogurt, 1 tablespoon (15 mL) raw honey, 14 cups (59 mL) canned pumpkin, and 1 tablespoon (17 g) ground flax seed. Mix the ingredients together until smooth, then apply the mask to your face. Allow it to sit for 10 minutes before rinsing with warm water.
Because pumpkin has a tendency to stain carpet and clothing, do this in the bathroom or over the sink to avoid disaster.
If you're having trouble removing the mask from your skin, scrub it away with a microfiber cloth.
Egg Mask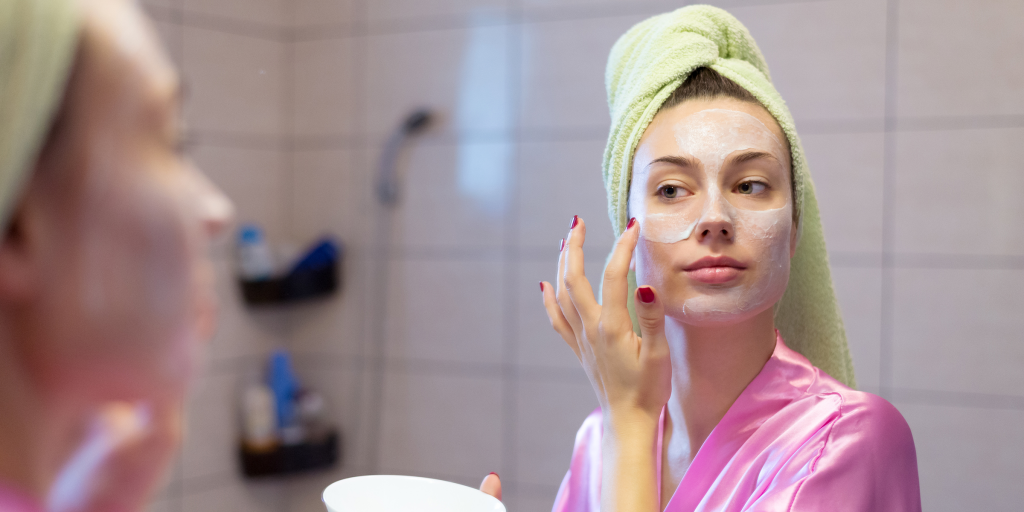 A refreshing and simple egg mask will moisturize your skin. Take an egg and separate the yolk, then discard the egg whites. Beat the yolk and sprinkle with cinnamon before smearing it all over your face. Allow it to sit for 30 minutes before rinsing with warm water.
Egg whites are excellent for oily skin but not so much for dry skin. Only use the egg yolks for a hydrating mask. Add a few drops of honey to your mask to make it creamier.
Strawberry Mask
Use vitamin C to rehydrate and refresh dry skin. Mash 5 fresh strawberries, 12 US tbsp (7.4 mL) plain yogurt, and 2 teaspoons (9.9 mL) honey in a small bowl. Mash the mixture with a fork until it is smooth, then spread it on your face.
To reap the most benefits, leave the mask on for about 20 minutes.
Banana Mask
Your skin will be left feeling healthy and moisturized. Peel and cut a banana in half, then using a fork mash one half . Put the mashed banana all over your face and down your neck, then rinse after 15 to 20 minutes.
If the mask is too thick, add 1 tablespoon (15 ml) of milk to thin it out.
Orange Mask
Hydrate your skin and reduce redness. In a small bowl, combine 1/4 orange juice, 1 tsp (4.9 mL) plain yogurt, and 1 tsp (4.9 mL) aloe. Smooth the mixture onto your face with a foundation brush, then set aside for about 15 minutes.
This mask can also help reduce skin pigmentation and redness, so it's a win-win situation!
This is an excellent mask to try if you have sun damage on your face.
Oatmeal Mask
Using oats, exfoliate and moisturize your skin. In a mixing bowl, combine 12 cups (120 mL) hot water and 1/3 cup (43 g) oatmeal. Allow for 2 to 3 minutes before adding 2 tablespoons (30 mL) plain yogurt and 2 tablespoons (30 mL) honey. Apply the mask to your face and leave it on for about 15 minutes.
Before rinsing off the mask, insert a strainer into your skin to catch all of the oats and prevent a clog.
Scrub the mask on your skin for about 40 seconds before letting it sit for extra exfoliation.