Chocolate is very popular all over the world. It is comfort food at its best! But that's not all. A block of dark chocolate contains many antioxidants, which have a positive effect on blood vessels, and… it is the perfect ingredient for your bath. So, how can you incorporate chocolate into your beauty/ skincare routine?

The antioxidants mentioned earlier are also very beneficial for the skin. They can help combat aging. Furthermore, chocolate is also said to moisturize the skin. Studies have not shown if this is really true, but you can't say no to chocolate, can you? Here are some tips on how to make the most of this delicacy without eating it.
1) Chocolate Bath
Chocolate lovers dream of bathing in chocolate. But it doesn't have to be a dream! In a full bathtub, add a tablespoon of cocoa powder, a drop of oil, and a tablespoon of milk powder. Milk baths have a long history and were very popular in their day. It contains lactic acid, which breaks down dead skin cells. Therefore, milk helps to renew the skin layer and dissolve the old one. After relaxing in this bath, do not forget to take a shower to wash away the lactic acid.
2) Yogurt and Chocolate Face Mask
Do you want to reduce your chocolate consumption but have a cupboard full of chocolate boards? Then apply it to your face for a change. It saves calories and adds to your wellness moment. Mix two tablespoons of cocoa powder with one tablespoon of yogurt and apply to a clean face. Something "accidentally" gets in your mouth? A nice bonus! Leave the mask on for 15 minutes and rinse with lukewarm water.
3) Natural Dry Shampoo
If you don't have time to wash your hair, chocolate is the way to go. Apply cocoa powder to your hair with a brush. The advantage of cocoa powder is that it does not produce the white mist that is common in other dry shampoos in the stores. The disadvantage is that your hair will smell like cocoa. But maybe you like that? If you have light-colored hair, mix in some baking powder for a lighter color.
4) Tone up Your Cheekbones With Cocoa Powder
Save your expensive makeup and try using chocolate, or cocoa powder, as a bronzer. Take your regular tanning brush and dip it lightly in cocoa powder. Remember to dab the brush before applying. Apply lightly over the cheekbones and blend where needed. Touch up over and over so that the cocoa powder stays throughout the day.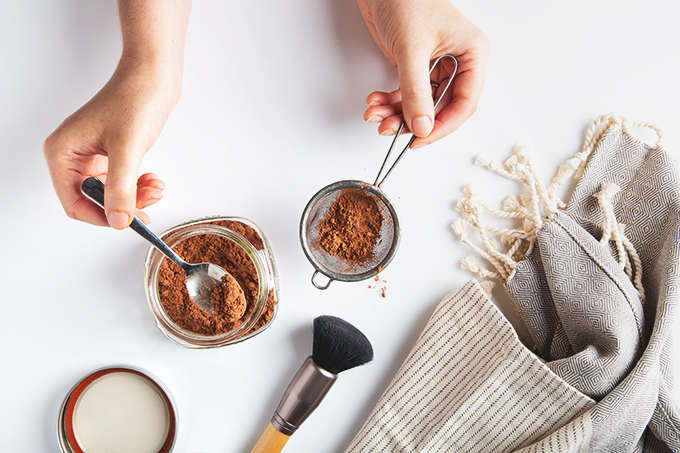 5) Chocolate Sugar Scrub
Make a chocolate sugar scrub that smells great and leaves your skin soft and smooth. DIY sugar scrubs are easy to make and leave your skin soft and smooth.
Ingredients:
Cane sugar (1/2 cup)
1/2 cup white sugar
1 tablespoon cocoa baking powder
1/4 cup almond oil, olive oil, or coconut oil
1/2 teaspoon vanilla
Baking chocolate (optional)
2-3 drops vitamin E oil (optional)
Instructions
In a bowl, combine sugar and cocoa. Slowly add oil until desired consistency.
Add vanilla and vitamin E, if desired, and stir to combine.
Store in an airtight jar or container.
Can be stored for up to 3 months.
Use as a scrub on any skin to gently exfoliate. Rinse with lukewarm water.
6) DIY Chocolate Lip Balm
If you are not a fan of lip balm from major manufacturers, why not make your own at home? All you need is 2 teaspoons beeswax, 1 teaspoon cocoa powder, 2 teaspoons coconut oil, and a few drops of peppermint oil (optional). Melt the beeswax in the microwave, remove and mix the remaining ingredients. Pour into a bowl, let stand, and begin using on chapped or dry lips.

Have you ever tried any of these beauty hacks? Share your experience with us in the comments below!