HELP!!! My hair is getting thin. What can I do to strengthen it?
Why Does The Hair Get Thin?
Not everyone is fortunate enough to have thick hair. Some people are born with thin hair, while others have thinner and more brittle hair as the years go by. Therefore, several factors contribute to the condition of our hair, including:
Aging
Illness
World succession
Long-gestation stress
Eating or drinking too much or too little
Drug use
And how you care for your locks.
Of course, we cannot control all of these factors, but we can do a few things to improve our hair's condition. The following are some tips to strengthen fine hair and add fullness to hairstyles.
1) Choose the Right Hair Care Products
Aggressive hair care products remove the natural oil layer of the scalp and hair. Therefore, use gentle shampoos and conditioners suitable for fine, thin hair, preferably those with strengthening properties.
Massage the scalp while washing: Massaging the scalp improves blood circulation and makes hair grow stronger. After washing, dry your hair with a less strenuous blow-dryer and lightly pat it dry with a towel.
2) Pay Attention To What You Consume
Healthy hair starts at the roots and is nourished from the inside out. An unhealthy diet definitely affects hair.
One-sided diets, rapid weight loss, excessively refined sugars, etc., are harmful to the entire organism and, therefore, to the hair. It is advisable to include more foods on your menu that contain vitamin B, omega-3 fatty acids, zinc and iron. Whole grains, avocados, bananas, beans, nuts, seeds, spinach, eggs, and oily fish are recommended!
3) Avoid Heat and Chemical Treatments
Thin hair is easily damaged and is vulnerable to heat and irritating treatments. Never (de-)color your hair yourself and leave it to your hairstylist. In addition, styling tools such as hair straightening should be avoided because they damage hair and cause breakage.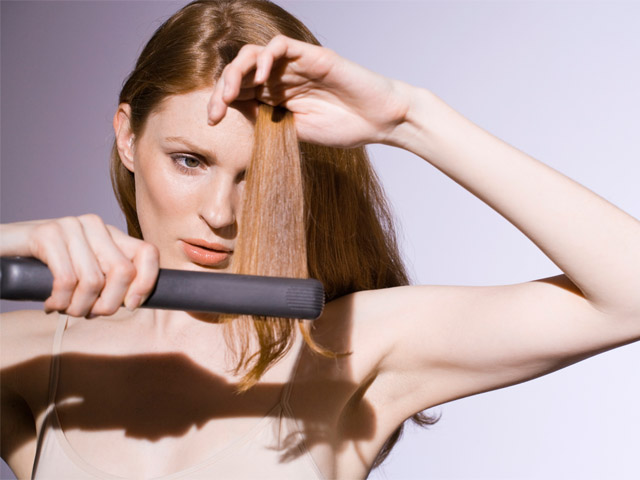 4) Adequate Relaxation
Stress is a leading cause of hair loss and brittle hair. Solutions to this are not always available, but it is still important to relax and unwind once in a while. After all, bows cannot be tense all the time. Switch off your laptop at night, read a book, or take a warm bath.
5) Detangle With the Right Brush
Be careful when brushing after shampooing. Wet hair is more susceptible to damage and will break off faster. Always comb or brush from the ends up and gently untangle knots.
A proper brush is essential. Look for one with natural, soft bristles that absorb and disperse excess oil during brushing. In this way, the hair can be untangled and cared for simultaneously. Curly hair, on the other hand, should be brushed with a wide-toothed comb to prevent the hair from splitting during brushing.
6) Lead A Healthy Life
In addition, the blood supply to the scalp may not be adequate, resulting in thinning of the hair. Therefore, regular scalp massage, exercise and quitting smoking can help improve blood circulation more effectively.
7) Visit The Hairdresser Regularly
Fine hair is sensitive and breaks and tears quickly. Therefore, having the ends of your hair cut regularly at a hairdresser can prevent breakage and damage from progressing. In addition, the hairdresser can provide customized care to strengthen the hair.
8) Avoid Over-washing Your Hair
The key to achieving thick, lush hair is to wash it properly. So, neither too often nor too little. If you wash your hair too often, your hair strands and scalp will dry out. This makes it brittle and prone to breakage. On the other hand, if hair is washed too infrequently, the hair follicles can become clogged with sebum, dead skin cells, and hairdressing products. To make your hair thicker and fuller, use the right products formulated for this purpose!
Let us know if these few tips have helped you in the comments below!