There is this trend I've noticed where people have started taking appetite suppressants to lose weight. Let me tell you that you don't need to "hate" food in order to lose weight. I'm a foodie and yet, I can go on diets or I can go on days without eating just for the sake of losing weight. Recently, I've tried a few special meals that can help you lose weight. So, why don't you try them out?
Spiced Carrot and Lentil Soup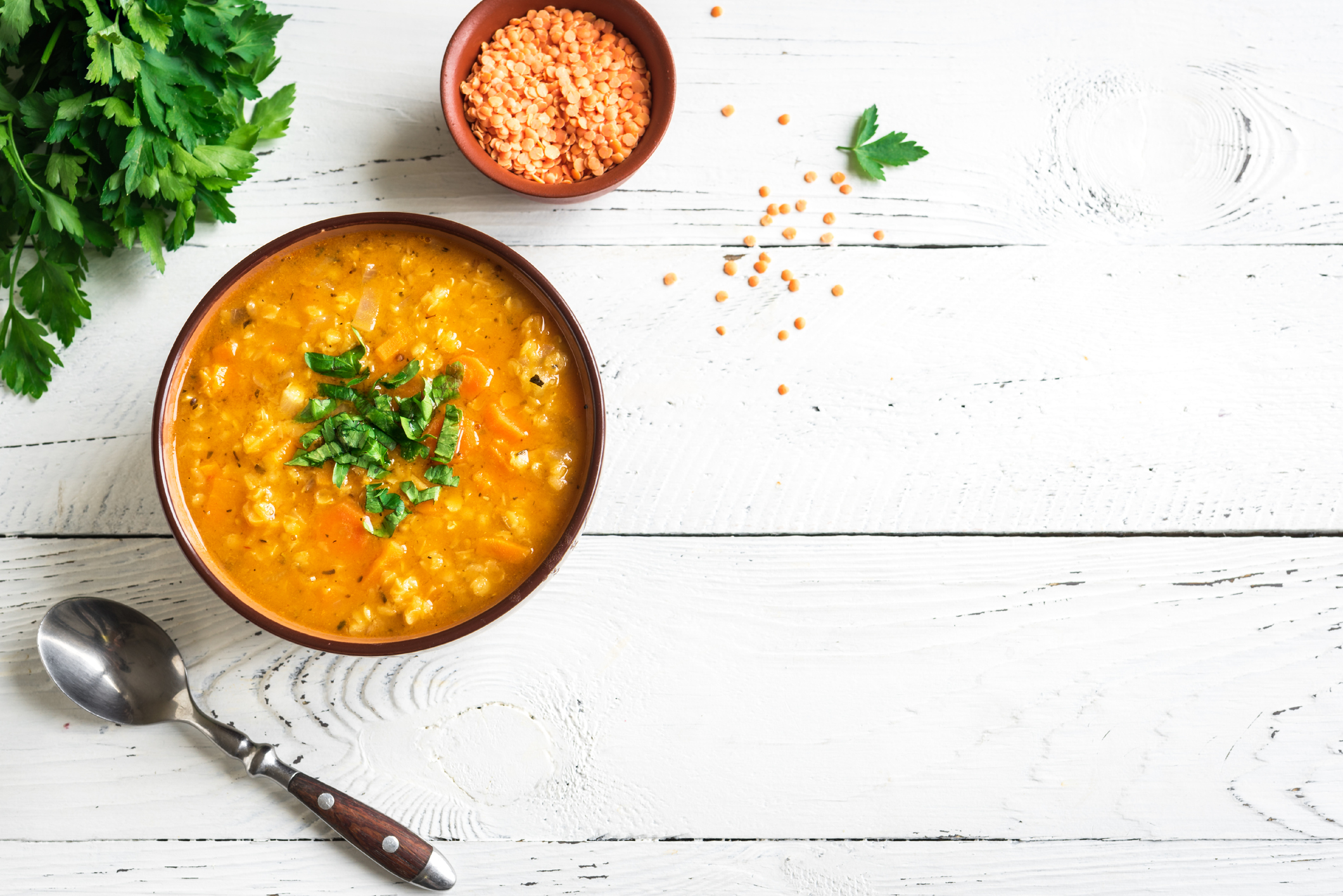 Ingredients you'll need:
Two teaspoons of cumin seeds
Two tablespoons of olive oil
Plain yogurt
Some chili flakes
140 grams of split red lentils
600 grams of carrots, washed and finely grated
1 liter of hot vegetable stock
125 millimeters of milk
Naan bread
Instructions on how to prepare the spiced carrot and lentil soup:
1. Start by heating a large saucepan and add two teaspoons of cumin seeds along with a pinch of chili flakes. Dry-fry for around 1 minute or you could also fry till the ingredients start jumping in the pan.
2. With a spoon, take out half of the mixture and set it aside. Then add two tablespoons of olive oil, 1 liter of hot vegetable stock, 140 grams of split red lentils, 600 grams of washed and finely grated carrots and 125 millimeters of milk. Let it simmer for around 15-20 minutes or until the lentils have softened.
3. Shortly before serving, you can blend the soup in a food processor or with a stick blender until you obtain a smooth mixture.
4. Garnish with plain yogurt and season to taste with some toasted spices. Then, serve with some warmed naan breads.
Chicken and Veggie One-Pot
Ingredients you'll need:
10 sliced brussels sprouts
Eight small trimmed radishes
One bunch of scrubbed and trimmed baby carrots
One tablespoon of Dijon mustard
Two tablespoons of plain flour
Around 1.4 kilograms of chicken (with the skin)
Two tablespoons of apple cider vinegar
Two tablespoons of extra virgin olive oil
250 millimeters of chicken broth
Around 10-12 peeled pickling onions or shallots
Four thymes
60 millimeters of pouring cream
Three grey zucchini cut into wedges
Micro herbs (optional)
Instructions on how to make chicken and veggie one-pot:
1. Oven should be preheated to 160C/180C. Put the flour along with the chicken in a sealable plastic bag. Season it and toss until it's well coated. After shaking off the excess flour, heat oil in a big and heavy-based oven-resistant dish over medium heat. Add the chicken pieces and let them cook for 5 minutes or until they are golden brown. Next, add in the onions (or shallots) and stir for 4 minutes or until you obtain a brown mixture. Shift the chicken and vegetables to another plate and set aside
2. In the same pan, heat the remaining oil – still over medium heat – and add flour and stir for around 3-4 minutes, or until the flour mixture turns into a nutty golden color. Add the vinegar, stock and mustard in the pan and let it boil and simmer for a few seconds.
3. Transfer the chicken pieces back to the pan and now add the zucchini, radish and carrot. Spread the thyme leaves over it, cover and put it in the oven and let it bake for 30-35 minutes.
4. You can check if the chicken and vegetables are tender. It's also time to add in the cream and spread the Brussels sprouts over the chicken. I also suggest lightly spraying some oil. Then, let it bake for some more 10-15 minutes.
5. It's now serving time. Scatter a few extra thyme leaves over the chicken and vegetables and don't forget to add the micro herbs.