It may not feel like it yet, but spring is getting closer and closer. A new season often brings new trends in fashion and beauty and a change in weather. Can't wait for the latest colorful manicure? We've looked for the colors that will be available in large quantities this spring and summer, and we're here to give you the inspiration you need!
Colorful Nail Trends
Whether you get your nails done at the salon or get your skills out and get a new manicure or pedicure at home, one thing is for sure: In spring and summer of 2022, our nails will be more colorful than ever. From Barbie pink to every color of the rainbow, and even the Pantone colors, itcan't be crazy enough!

Not a fan of color and prefer neutrals? No problem- classic black nails are also going to be a big hit this spring!
1) Green
Green is the color of 2022, not only in fashion but also in nail trends for spring/summer 2022. Choose a bold green for a simple, chic look or a different shade for a monotone look.
2) Mix and Match
Mixing and matching nail polish colors were already seen regularly in 2021. Whether you want a different color on each nail, a different color on each hand, nail art, or a rainbow-colored French manicure, you can do whatever you want!
3) Lilac
A fresh color that immediately puts you in the mood for summer! When Pantone revealed this color, it was immediately apparent that this would be one of the most trendy nail colors in 2022. There was even a 2.45% increase in people buying lilac nail polish in the 30 days after the color was announced.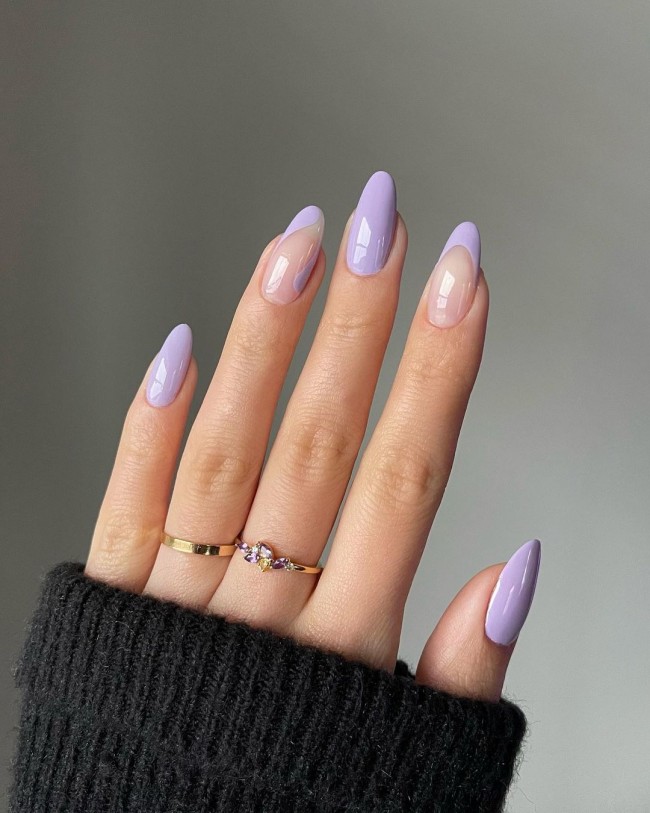 4) Barbie Pink
Love bold shades? Then choose barbie pink on your next visit to the salon paint your nails this color yourself. This way, you can wear the color with any outfit and keep up with the latest trends.
5) Classic Black
This one is not to be missed of all the nail trends for the summer and spring of 2022. Black nails may seem rather heavy, but they can be very chic when done well. These nails will also match literally any outfit.
6) Blue
Blue is not the first color to be put on nails, but you can do a lot with it. From a simple blue polish to a French with nail art, this color will be in the nail trends for summer and spring 2022.
7) Purple
This color can turn any nail design into a party. Because of its intensity, it looks great on tanned summer skin.
8) Intense Pink
Your nails will stand out with an intense pink color. The strong, thin, ultra-shiny lacquer provides a perfectly even coating for a great look.
9) Vibrant Neon
Spice up your winter manicure with bright neon colors. Bright neon colors like green, pink, yellow, and blue look great with all of your spring skirts, pants, and shorts.
10) Creamy Shades of Brown
Brown nail polish is seen as a top pick for any season, but deep, rich espresso shades are expected to take their rightful place this spring!
11) Sandy Neutral
Expect neutral tones and skin tones, different from the typical pink and coral tones this time of year. Instead, a big focus will be on neutral colors with sand and khaki tones reminiscent of early beach days. Ready to try it at home?
12) Vibrant Red
Vibrant reds are back in a big way for spring 2022. And it's not the standard pinkish red, but red-orange with oval nails that will get a lot of attention. This spring red is all about capturing the sunny vibe and upbeat energy of the warmer months.

Which among these colors do you think you'll be wearing the most this spring? Let us know in the comments below!