You've probably heard that drinking a glass of wine a day has great health benefits, it's totally true! But the benefits of wine in this presentation don't stop there, in this article I'm going to tell you how your skin, your face and even the age you represent can benefit from the antioxidant properties of wine.
I'll start with a bit of history and theory so that you understand why its benefits and also so that you can show this valuable information to your friends while they enjoy a vinotherapy facial.
Let's Start with the Basis of this Topic: grapes.
They are fruits obtained from the vine, they come in small, sweet bunches and are used to produce must, wine and vinegars or can be eaten fresh. They grow in clusters of 6 to 300 grapes and can be of different colors, such as purple, green, pink, among others.
Most of the grapes cultivated in the world come from the "Vitis Vinifera" species, which originates from Mediterranean Europe and Central Asia and, to a lesser extent, from America, Asia and Australia.
These grapes, which are less sweet than table grapes and more acidic, are used to make red wine. Examples include Garnacha Tinta, Cabernet Sauvignon, Merlot, Pinot Noir, Syrah, Cariñena, Tempranillo, Tintorera and Graciano.
These types of grapes, in addition to being part of the delicious wines with which we accompany red meats, strong cheeses, pasta, etc., are of great importance because of their high content of polyphenols.
Polyphenols are neutralising molecules capable of slowing down or preventing cell oxidation, such as: quercetin, anthocyanins, anthocyanosides, anthocyanidins, catechins, proanthocyanidins, etc. They are ideal for reducing oxidation in the body, preventing the increase in the concentration of free radicals, which contribute to the acceleration of ageing.
In humans, ageing is a natural process that leads to the deterioration of various structures in our body; however, the skin undergoes the most visible changes such as loss of elasticity, the appearance of wrinkles, spots, dry skin, thinning of the corneal layer, desquamation, less nutrition and oxygenation, capillary fragility, paleness… And, this process can be accelerated by factors such as stress, exposure to UV rays, pollution, etc.
Our body therefore has defense mechanisms such as antioxidants that act against free radicals to slow down oxidation, but in the event of an increase in radicals, we must help our body by providing it with more antioxidants through diet or the use of topical cosmetics.
In this way, as it has been verified that antioxidants are powerful anti-free radical agents, which contribute to the protection of molecules, not only through a diet rich in polyphenols but also through direct application to the skin, it is accepted that the topical application of antioxidants is effective in treating the symptoms of skin ageing.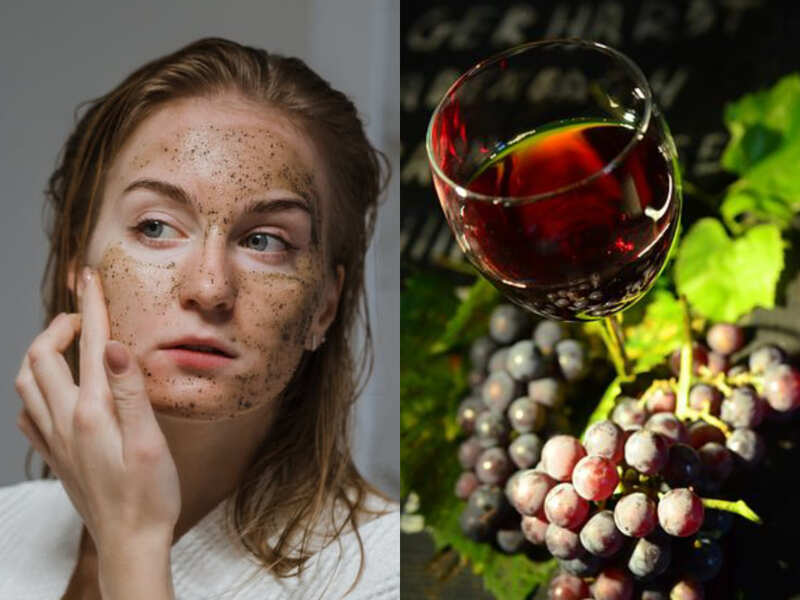 This is why cosmetics are taking advantage of the benefits of grapes and their high polyphenol content through "vinotherapy", a facial treatment that involves taking advantage of the properties of red wine, mainly Cabernet and Merlot, for its high polyphenol content that helps us look younger with great benefits for our skin:
Look smoother
Promotes elasticity
Detoxifies the skin
Improves venous return
Delay the signs of ageing
Properties of Wine on the Skin
Grapes contain "resveratrol", the most active polyphenol to combat the involution process and its concentration in red wine is higher than that found in other plant species.
Currently, there is a whole range of facial beauty products in which wine is the main active ingredient. You can find exfoliants, firming or moisturising creams which, when added to other natural elements, provide real treatments that improve the aesthetic health of the skin and body.
You now know all about vinotherapy, a wonderful beauty treatment for the skin, which gives wonderful results. Don't waste any more time and try this facial treatment. For those who already had it before, share with us your experience in the comments below.