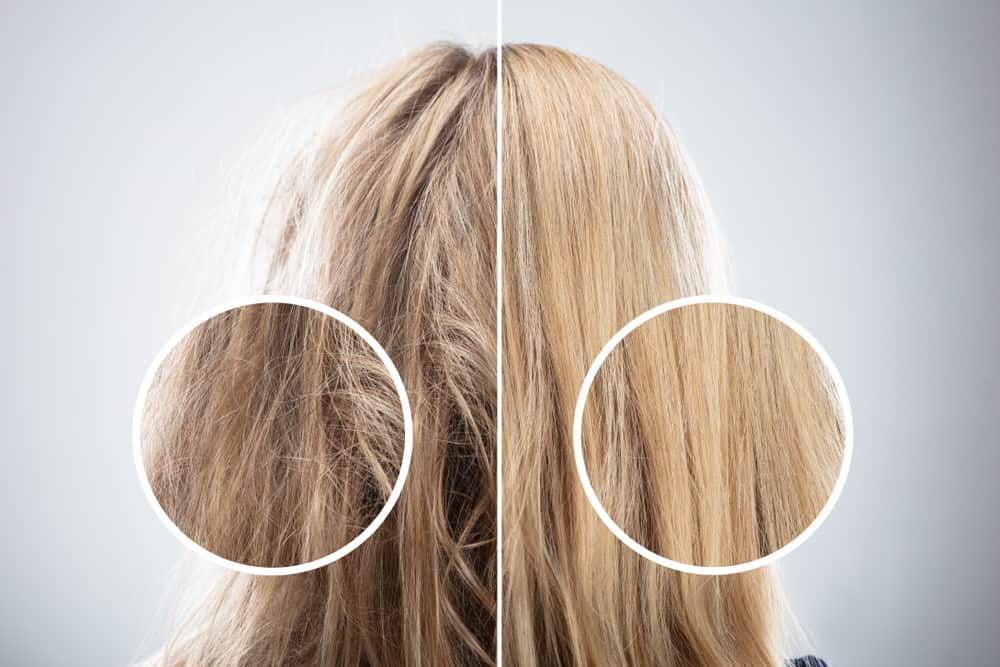 The rubbery look, which causes hair to break easily and become extremely brittle, is the result of overly aggressive chemistry, or it may even be a mistake in product dosage. While chemistry is a very common option for some women, these negative effects not only affect the health of the hair, but also the self-esteem of women.
That's why in today's article, we bring you a few methods to eliminate that springy look and rebuild your hair to its former glory, once and for all. Come with us!
What is Elasticity and Why?
Each strand of hair is composed of several layers and a large amount of scales. In the center is the cortex, which is responsible for keeping the hair moist. We can make an analogy with our own skin: if it loses its moisture, it dries out and looks rough, and it's the same with our hair.
Our hair already has a natural elasticity, when it is dry, the cuticle, which is the outer part of the strand, lifts. This causes the cortex to lose moisture. Elasticity is able to indicate the health of the hair, we know that in extreme cases, the hair is not healthy and must receive special care.
The more moisture there is in the cortex, the more elastic the hair is. So we think, "If wet hair is elastic, should we remove all the moisture?" and the answer is no! Moisture is essential for hair, it makes it flexible, so when the cuticle is sealed, the cortex retains moisture.
Without it, strands look weak and brittle, breaking easily, but whenever hair retains too much moisture, it becomes rubbery, and that's not what we want, right?
Elasticity Test: How to Do It on My Hair?
If you are curious about the state of elasticity of your hair, you can do a simple test to identify it: take a good look at the appearance and feel the texture of the strands, then take a strand of hair and gently stretch it, if this thread is deformed or broken, it means that its elasticity is low, and tends to break more easily.
If you prefer to use an expert hairdresser, you can go to the salon and let him do the test, hairdressers who already have a lot of experience are able to identify the elasticity of the hair without testing.
How to Treat Hair Elasticity?
We can clearly see in rubbery hair the weakness of the strands, its ability to break and curl easily, and the lack of shine. Let's see some points that will solve all these aspects of hair:
Stop Chemicals for a While
We know that when we put chemicals in our hair, the chances of it coming out of the process damaged and brittle are great, right? Well, in order to regain all the shine and health that our hair is missing, we need to ditch the chemicals, even for a while.
This does not mean that it is forbidden to dye or straighten hair, on the contrary, the most important thing is to prepare the strands to receive the chemicals, making them as healthy as possible, and then, when they are strong enough, either say that they are more suitable to receive the chemistry.
Start Trimming the Ends
Getting into the habit of trimming the ends of strands is very important for hair to fully recover. The ends of the hair are the most fragile and dry areas. Cutting these parts of the hair, which are more rubbery and damaged, is very good for giving a healthier look.
Use Keratin
Keratin has a very important role in making sure that all the nutrients are kept in the strands of our hair, forming its internal structure and rebuilding itself strand by strand. In fact, it deeply nourishes your hair!
In addition, keratin strengthens strands, making them shinier and more resistant, protecting them from natural damage such as sun exposure, high temperature water, blow dryers, among others. Learn more about the potential of hair nutrition in this post.
Let Your Hair Dry Naturally
Flat iron, hair dryer, babyliss… All of these appliances can damage our hair, but because it happens gradually, sometimes we only notice when our hair is very damaged. We know that heat causes a lot of damage to our hair, so letting the strands dry naturally and breathe a little is something that goes a long way in restoring the hair.
So, what did you think of this article? Share your views in the comments below. We hope you learned how to treat hair elasticity and how to restore your hair's shine and health.