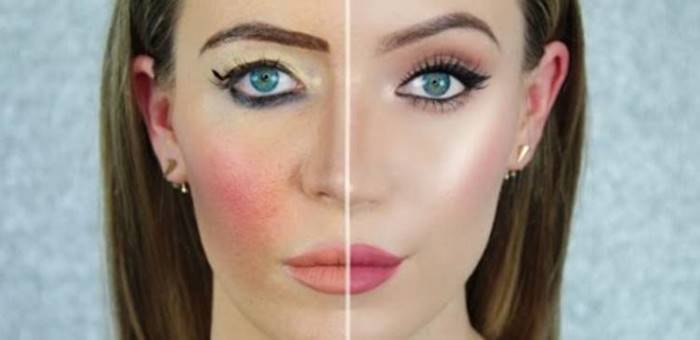 When we are young and we start to wear makeup, we usually try to look more mature, with a branded makeup that does not always benefit us, but when as we age, we try to avoid this type of makeup that makes us look older.
The great thing about a flawless makeup is that you enhance your natural features. It's not about hiding under layers and layers using dozens of products, but its about looking your best! Yet, it's easier than you think to make certain mistakes that produce the opposite effect of what you want, and visually age you.
But not to worry! We are here to help! In today's article, we look at the most common makeup mistakes that make you look older and that we should avoid!
1.The Wrong Shade of Foundation
The most important thing when we apply a makeup base is that the tone is the closest to ours and appropriate for the type of skin we have. This way, we won't feel like we're wearing a mask, but rather that it blends perfectly with our skin and looks more unified.
2.Matte and High Coverage Makeup Base
When we are young, we have the juiciest skin, and as the years go by, it gets duller and matte.
It is therefore important to take care of it with appropriate products and moisturize it well, which is why hyaluronic acid is so fashionable now that it has many benefits.
For this reason, one of the makeup mistakes that make you look older is the use of a covering base, as this creates a mask effect. If it is matte, as all high-coverage bases tend to be, it reduces your skin rosiness.
It's also important at this point not to overuse mattifying powders. You can use a small amount in areas that tend to have a bit of shine, but not all over the face.
3.Mascara on Lower Lashes
Applying mascara to the lower lashes increases fine lines and wrinkles around the eye.
On lower lashes, simply apply a little product on the outer lashes, without marking too much.
On the other hand, to make the eye look more almond-shaped and open, curl the upper lashes well by applying mascara to enhance the look.
4.Dark Lipsticks
Like the skin on your face, as you age, your lips become thinner and duller, so makeup is needed to give them a juicy look. Very dark lipsticks make the lip look less full, while nudes and pinks make them look juicier.
As for lipsticks, it's important to find a sweet spot between matte and glossy ones. Matte lipsticks tend to dry out the lip, marking all the lines and reducing moisture, but glossy lipsticks are less set and, over time, can penetrate the wrinkles at the edge of the lip, making them appear even more so.
You can use a good eyeliner to keep your lipstick from running, or just put a little bit of gloss in the center area, without going near the edge.
5.Very Strong Contour
The key is not to use too dark a shade and to blend very well. You can contour parts of your face with a shade that is higher than your skin tone, but it's best to apply a little blush in shades of pink or coral to give your image a fresh look.
Too much contouring hardens your features and is a type of makeup that makes you look older.
6.Don't Seal the Concealer
If concealer is not properly sealed properly, over time it tends to seep into the wrinkles around the eye.
So it's important to apply a little loose powder to seal the area.
With those mistakes to avoid, you should be good to go and slay a perfect look with flawless makeup. How about you? Do you have any other tips to share? Don't forget to leave a comment below!