Each face is unique because beauty is made up of almost imperceptible details and proportions. Makeup is simply here to help enhance those features. So, how can you enhance your eyes, and what kind of makeup should you use to make them appear bigger? To do this, it is essential to use eye shadow, pencil, and mascara strategically and choose the best lines, shades, and products. Here are some tips to help you get started!
Mistakes to Avoid with Small Eyes
To have good eye makeup, you need to know how to say "no". If you want to make your eyes bigger, you should avoid using too dark shades, such as black pencils or dark eyeshadows.
Instead, choose delicate shades such as ivory, champagne, and rose gold. These colors emphasize the whites of your eyes and thus make them look more relaxed. Black pencils should be used on the outside of the lower lashes, and you can also apply a combination of thinner pencils on the inside to make your eyes look bigger and rounder.
Makeup Tips for Small Eyes
Want to learn how to apply to make up on small eyes perfectly? With eye shadow and mascara, you can create red carpet-worthy makeup! When it comes to makeup for stars, another makeup tip to follow is the "cut crease," which widens the crease of the eyelid. To achieve this optical effect, use an eye shadow that is slightly darker than your skin and apply it to the inner corner of your eye just above the crease. This will open up your eyes and make your eyelids look wider.
Now let's move on to the second important ally of makeup, mascara. How do I apply makeup to recreate the classic faux effect? First, apply the mascara to the lower lashes with precise movements using only the tip. To make the upper lashes more attractive, separate and curl the upper lashes with an eyelash curler before applying mascara.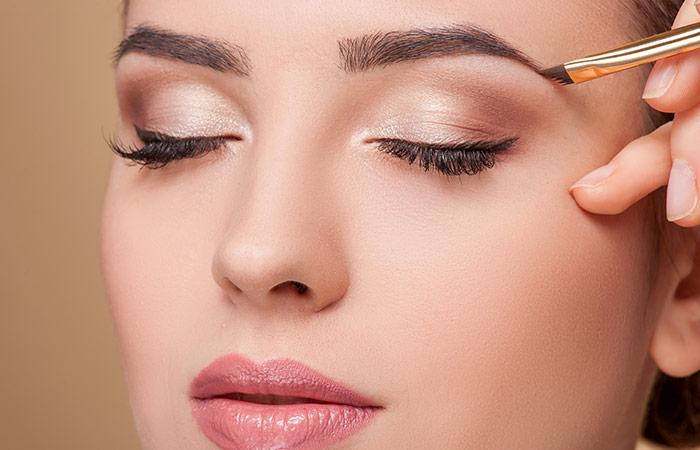 Make up for Each Eye Shape
You can also complete your makeup according to the shape of your eyes by following these tips:
The most important thing for small and slightly sunken eyes is to avoid applying pearly eyeshadow on the crease, don't pay too much attention to this detail, and emphasize the inner corners with highlighters and correctors. By using matte eyeshadows and strategically creating highlights, your makeup will be much more balanced. On the other hand, if the crease of the eye is tilted downward, a very effective way to lift the brow and line is to pay attention to the shape of the eyebrows.
Evening Makeup for People With Small Eyes
The most effective special effects are unobtrusive—for example, tight lines, which are a surefire technique for clarifying facial expressions. Use a pencil, eyeliner, or khol to fill the upper part of the eye with black and bring it closer to the lash line. This technique requires some precision, but it's worth a try for a special night out.
Shimmering eyeshadow is another excellent solution for creating a magnetic, bright look. Regardless of the shape of your eyes, you can achieve better results by using high-quality facial products. Taking care of your makeup base and toning your complexion is the first secret to highlighting details and drawing attention to your look. Conceal imperfections with foundation and illuminating concealer, and determine your makeup with powder eyeshadow, gel eyeliner, and necessary makeup.
Before trying out this eye makeup, make sure you have a good makeup base, and let us know how it goes in the comments below!