Colorful hair scrunchies, sparkly bobby pins, delicate headbands, and eye-catching patterns – this year's hair accessories will add a touch of glamour and something extra to your hairstyle. Fashionable hair accessories are available in many different designs and are so versatile that they are sure to be a must-have for any fashion-conscious woman. From casual to classically chic, we'll show you the most beautiful hair accessories you may use to enhance your hairstyle!
1) Headbands
Many hair accessories this year are deliberately focusing on the face and hairstyle. Eye-catching headbands, for example, combined with large earrings, are a real showstopper. Many women associate the beautiful headbands with Blair Waldorf from "Gossip Girl." No wonder – this lady put on great models and made a real impression. The color is the deciding factor with this hair accessory – from deep green to soft pink to neon colors – anything goes, and it looks fabulous! The look is even more stunning if you match the headband with the color of your outfit.
2) A Pastel Scrunchie or Bucket Hat
Whatever your hair color, you're sure to love an accessory in peach, mint green, or even a soft lavender. So, we recommend choosing one of these two trends depending on whether you prefer to protect your head most fashionably or whether you're a fan of the high hairstyles that are so favorable when the temperatures rise!
If you know how to combine both most stylishly, then you can also, for instance, wear the scrunchies as a bracelet, and your favorite bucket hat will be the best companion to avoid burning your face with the arrival of summer!
Besides, not only are hair scrunchies fashionable but also gentle on your hair. Since they have no metal parts, there is no unnecessary damage to the hair structure. Their soft design reduces the risk of hair breakage. They won't pull your hair, and even a tightly tied ponytail won't ruin it.
3) Exotic Hair Clips
It's going to sparkle and shimmer this year. Rhinestones, pearls, and gemstones play a crucial role in hair accessories. Whether in gold, with bold lettering, or in colored metal – hair clips are on-trend at the moment and look fabulous. This hair accessory is lovely and practical at the same time. It's a great way to cover up a bad hair day, for example. Whether as a natural accent with eye-catching patterns or as a small highlight in a ponytail – anything you like is allowed here. And best of all, you don't have to have long hair to implement this trend. Depending on the design and size, you can be amazingly creative and play around a bit here.
4) Hair Bows
If you're still a little suspicious of scrunchies but still want to spice up your ponytail, then hair bows are just the thing for you! Here you have many options to choose from. From super simple and narrow to wide and bright – there's simply everything your heart desires. Made of velvet or satin, with or without pearls – hair accessories look amazingly feminine and romantic yet still go incredibly well with a casual denim outfit. If you want to look more elegant than cute and girly, it's best to use a velvet hair bow. Fashionable hair accessories come into their own with pinned-up hairstyles – whether it's a ponytail or a bun – it's a matter of taste, and the choice is yours.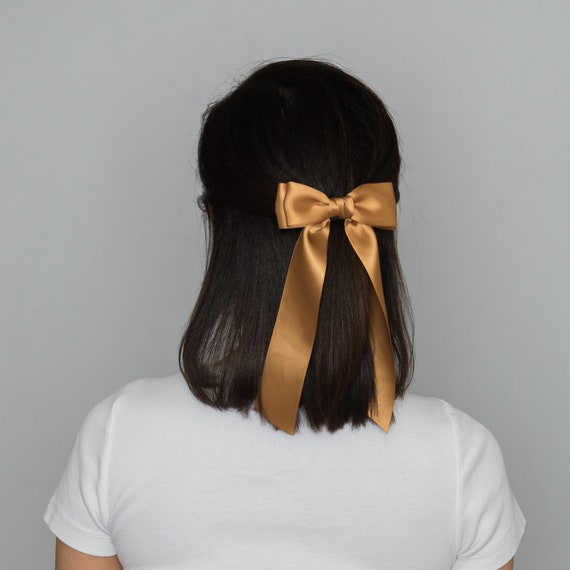 Do you like hair accessories? How do you style your hair with them? Let us know in the comments below!