Clay is a natural substance that is very beneficial for our face's skin, with different functions depending on the color and the active substances present in it. Clay is one of the oldest natural remedies and has been used for many years thanks to its extraordinary healing properties that can act on the skin effectively to solve and heal specific problems.
In general, clay has a high absorption power, purifies the skin, making it radiant, smooth and regenerated. In particular, it is rich in minerals such as iron, calcium, and magnesium. Depending on the amount and type of trace elements present, it has different actions on the skin. Thus, its properties can be purifying, antibacterial, antiseptic, soothing, remineralizing, and healing.
To make clay masks, we will have to choose the right quality, according to our skin type and our most specific needs.
Green clay acts on oily skin, but also on dry and mature skin thanks to its rebalancing and revitalizing properties;
White clay (also called kaolin) which has an astringent and purifying effect;
Red clay, rich in iron, is very suitable for sensitive and irritated skin;
Yellow clay, which contains a good quantity of copper, acts effectively against neuralgia and joint and muscle pain.
In this article, we give you 4 ideas of clay-based masks for your face.
The quantities indicated in the recipes refer to a face mask dose to be used immediately after preparation.
1. Green Clay and Tea Tree Mask for Oily Skin
To make a facial mask against oily and acne-prone skin, we can use white clay and some beneficial ingredients to purify the skin and have an antibacterial effect.
Ingredients
2 tablespoons of Green Clay
1 tablespoon of Rosemary oil 'Hydrolat'.
10 drops of Burdock (large herbaceous Old World plant of the daisy family) oil extract
3 drops of Tea tree essential oil
Directions
In a glass bowl, put the green clay and very slowly add the rosemary oil;
Mix with a plastic spoon until you get a creamy paste;
At this point, add the 10 drops of Burdock and tea tree and mix again for a few seconds;
Clean your face, spread the mixture on your face (except around the eyes) and leave it on for about 15 minutes.
Rinse off with warm water and a sponge.
2. Mask With Yellow Clay for Sensitivity and Toothache
To make a facial mask that contrasts pain and sensitivity (e.g. toothache), it is possible to make a compress with a spoon of yellow clay, a spoon of water and 2 drops of clove oil. Mix all the ingredients well and apply this mask to the affected areas for 15 minutes. Rinse thoroughly with water.
3. Mask With Aloe Vera and Red Clay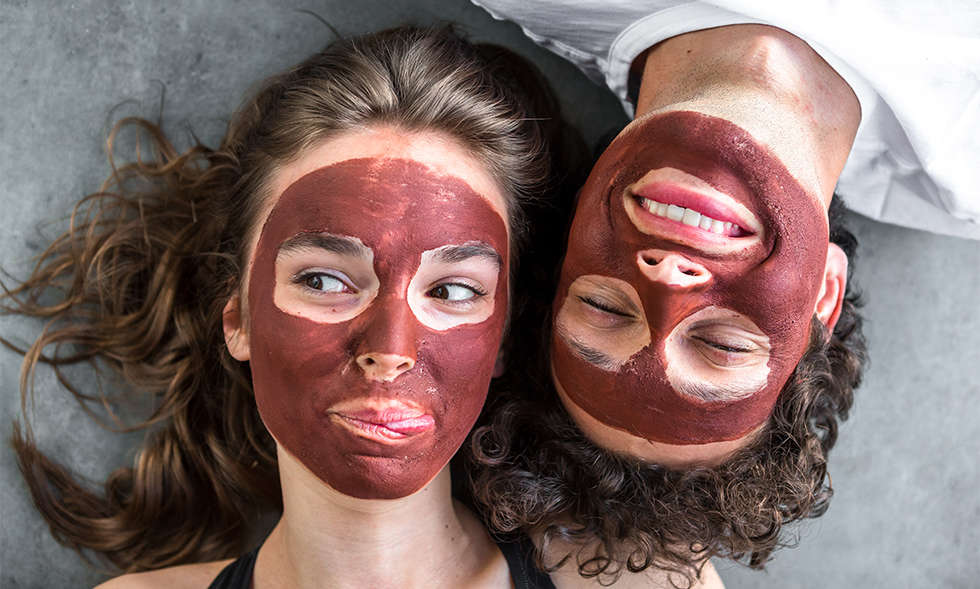 To have a facial mask for red and irritated skin, we recommend this very effective recipe.
Ingredients
2 tablespoons of Red Clay
Aloe vera juice to taste
1 teaspoon Aloe Vera Gel
3 drops chamomile essence
Directions
In a plastic container, put the red clay and aloe vera gel and start mixing with a wooden spoon;
At this point, add the aloe vera juice in sufficient quantity to obtain a creamy mixture;
Finally, add the drops of calming chamomile essence and mix all the ingredients well! This clay mask should be spread over the face and left on the spot. After 15 minutes, proceed to wash.
4. Mask for Oily Skin With White Clay
This clay mask is suitable for oily and impure skin, thanks to the lemon's astringent effect and the purifying effect of bergamot.
Put two tablespoons of white clay in a container and add water until a homogeneous mixture is obtained. Finally, add 3 drops of bergamot essential oil and 3 drops of lemon juice.
Spread on the face (except around the eyes) and let it rest for 12 minutes. Rinse with warm water.
Do you know any other practical face masks recipes? Don't forget to share them in the comments below.