I still remember the first time I used the lemongrass essential oil and how it smelled was so divine that I was transported and wanted to use in everything I can. Lemongrass essential oil comes from the lemongrass plant, that grows in tropical and subtropical parts of the world. Its oil looks bright or pale yellow with a thin consistency and the scent of lemon. It was my sister who introduced me to essential oil as she was an aromatherapist and always dealt with essential oil that made her room smell like heaven. This lemon and orange-blossom-like scent with a hint of spiciness comes from the Poaceae family which is similar to lemongrass. The aroma if the lemongrass is strong and overpowers other oil if not used in the right amount. The scent is described as fresh, lemony, grassy, and earthy.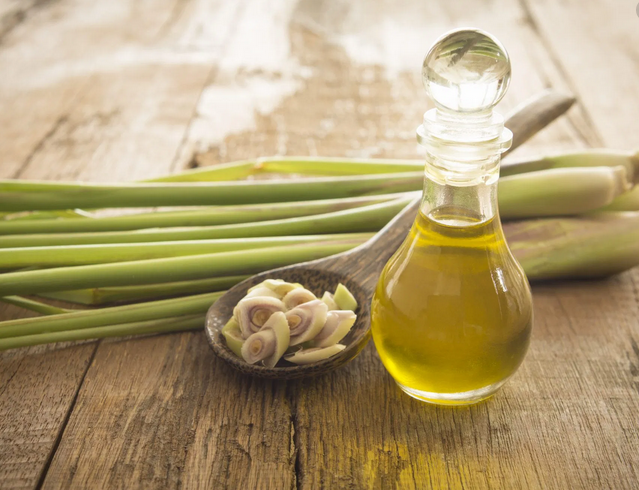 If you want to use lemongrass essential oil in your daily routine, here are the benefits that it provides for your skin, hair and overall health.
Remove dandruff – A common irritant found on the scalp, lemongrass helps in having a flake-free scalp and well-nourished hair follicles and also helps in having strong and thick hair growth. Add 2 to 3 drops of lemongrass essential oil to your hair oil and apply it to the scalp. According to a study conducted in 2015, lemongrass oil decreases dandruff considerably in a week's time.
Fight against fungal infections – Lemongrass essential oil contains a large amount of antifungal properties. It acts against the growth of fungal infections on the body. It is specifically indicated to fight the formation of candida species on the skin, nails and hair. In topical application, it prevents the appearance and inhibits the growth of any form of yeast infection.
Reduces anxiety – The aroma of lemongrass essential oil is both soothing and relaxing. When inhaled through a diffuser or vaporizer, the oil can spontaneously reduce any stress or anxiety. It can lower a person's blood pressure. A study conducted in 2015 concluded that massaging lemongrass essential oil with sweet almond oil can reduce diastolic blood pressure.
Acts as an anti-stress – Again, since stress and anxiety are common factors that cause an increase in blood pressure, this oil is known to reduce it and thus eliminate stress. Even massage of this oil on the scalp is beneficial because its aroma has a calming effect. A component present in lemongrass called Eugenol has properties similar to those of aspirin. Eugenol also promotes the release of serotonin. The hormone serotonin helps regulate sleep, appetite and other cognitive functions.
Refresh the atmosphere – When sprayed into the environment in diluted form, this oil is known to instantly refresh the atmosphere, acting as a room freshener or natural fragrance. Chemical-based air fresheners contain toxic components that could harm us in the long term. On the other hand, this oil is completely safe and non-toxic. It acts as a deodorant and at the same time relaxes the atmosphere.
Reduces pain and muscle cramps – The Citral present in lemongrass essential oil is known to reduce pain and cramps caused by any inflammation. This oil is often used as a home treatment for rheumatoid arthritis and applied to the affected area to relieve pain. One study states that after 30 days of regular application of this oil, pain levels can decrease drastically.
Promotes healthy skin – The oil has many beneficial properties for the skin. Lemongrass oil is known to improve the general texture of the skin, cleansing and detoxifying the skin and pores and removing excess sebum from the skin. The oil's antioxidant properties help neutralize free radicals and promote skin suppleness. In addition, it helps fight the formation of bacteria responsible for acne.
Antiseptic and astringent properties – The antiseptic properties present in this oil make it functional in the healing of bruises and superficial wounds. It cleans and disinfects the wound and promotes the healing process. It is also considered a natural astringent, which helps to tone the skin, giving it a natural glow and strengthening the skin structure at the same time.
Calms digestive disorders – Lemongrass is also a common folk remedy that helps individuals avoid stomach aches and gastric ulcers. In support of this, a study conducted in 2012 reports the reduction of stomach ulcers using lemongrass essential oil on mice. This oil is also known to reduce diarrhea, which calms the digestive system. The aroma of this oil may also relieve nausea and related problems.