The trend in brow shape nowadays is the boy brow with the bigger and wilder eyebrows. But as is often the case with fashion, not all trends are suitable for everyone. Some of them were badly plucked, or your parents didn't bless you with beautiful eyebrows. The trick is to find a shape that fits the structure of your face.

What Are the Different Eyebrow Shapes?
The main eyebrow shapes are:
Straight
With an arc /angle
Feathered (like a feather)
Round
Each of these shapes can be thick and full or thin, depending on the amount of eyebrow hair you have. Here are some examples of celebrity brow shapes that, however, may not be suitable for everyone. It's always best to play with your eyebrow style to find your perfect shape.

1) Cara Delevingne
Cara Delevingne's eyebrows are the classic example of a child's feathered eyebrow. This type of brow is iconic because of the full shape, the sharp angle, and the strong straight line at the beginning.

2) Kylie Jenner
Kylie Jenner, on the other hand, has opted for a perfected and strong arch. Curved to perfection, there's not a single hair wrong. What's more, you can see the ombre effect on her eyebrows (from light to dark), making the eyebrow look more natural.

3) Dua Lipa
Dua Lipa has straight and full eyebrows. Full eyebrows make you look younger. Use an eyebrow pencil to create and a fiber eyebrow mask to make your eyebrows look even fuller.

4) Zoe Saldana
Zoe Saldana has rounded eyebrows that have the appropriate thickness for her face. Not everyone has a natural arch in their eyebrows, and if you force it, that type of eyebrow may not suit you.

5) Meghan Markle
Meghan Markle's eyebrows are full but look natural. A little brow powder and clear gel are all you need for a natural look like hers.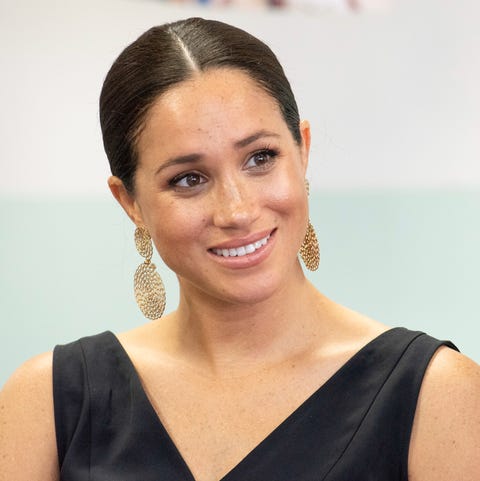 6) Lily Collins
Lily Collins was born with full eyebrows. Lucky for her. If you don't have this, look for an eyebrow serum that will make the hairs you have grown faster.

Threading or Waxing?
The difference between the two is undoubtedly a personal preference. If you have sensitive skin, go for eyebrow threading.
Do you have fine hair? Maybe waxing is a better option. Generally, threading works best for those with thick hair since threading can break off the strands of fine hair.

The Tools You Need
Leaving your eyebrows in a professional's hands is the best choice, but if you prefer to do your eyebrows on your own, you should first determine which eyebrow shape suits you the best.

Is Eyebrow Pencil, Powder, or Gel Better?
There are so many different kinds of eyebrow products that can sometimes be confusing to determine which one is appropriate.
A fine pencil is best used to create realistic "stripes" like hair that give your ends a natural, smooth, and defined look.
Eyebrow powder is very nice if you want to fill the eyebrows a little. Tip: You can also use eye shadow.
Wax eyebrow pomades are perfect if you want to create a fuller, more defined eyebrow.
A fiber-based gel is ideal for adding a natural texture to the eyebrow, giving even the finest eyebrows the illusion of fullness.
Use products you feel comfortable with and experiment with different products to find out which ones are best for your eyebrows. Most of us are better off with professional help, if not on a regular basis, then at least once, just to see how they should be shaped, and then you can maintain them on your own.
Let us know if these few tips have helped you in the comments below!