When it comes to changing your look without modifying your hair, hairstyles are an excellent alternative. They are ideal for transforming any style and giving it an instant, more glamorous touch.
In addition to making you look radiant during the day, these multiple options will hide your forehead's size and refine your features, giving you an elegant and chic look. But that doesn't mean you don't look fabulous with a huge forehead; we're all beautiful, but adding some dash of style to our daily look doesn't harm! Today we'll show you 7 quick and easy hairstyles that will inspire you to give yourself a fresh new look! Take note and get to work!
#1. Fringe: Your Best Friend
The most important thing about this look is the fringe. If you want to get out of the traditional cut and show off a more modern style, we suggest you go for curtain design.
This one will not only give you a cute and elegant touch; it will also frame your eyes to make them look big and imposing. Take advantage of this hairstyle to experiment with your eyeliner and try new ideas; here, we show you some options.
#2. Asymmetrical Bob
If you want to simulate a smaller face and have short hair, you just need to make a couple of adjustments to your style to get the look you've always wanted.
Visit your trusted stylist and ask him to make you a traditional bob; the only difference is that one strand should be slightly longer than the other, ideally below the jaw. In addition to giving you volume, it will reduce the size of your forehead.
#3. Side Braid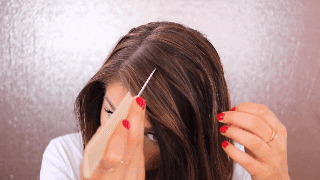 Part your hair with a side parting and separate a section from the part closest to your forehead. Make sure you take a lot of hair. Otherwise, you won't achieve your goal.
Make a French braid with the section that you previously set aside and bring it to the side. Use a garter of the colour of your hair so that it goes unnoticed. Add your favorite clasp and some texturizer so that it will stay in place for the rest of the day. Do you notice the effect it causes on your face? It's great!
#4. Straight and Elegant
Is your hair as long as Kim Kardashian's? This stylish look will enchant you. The straight hair is ideal for tuning factions and slim the face.
To start, apply a thermal protector according to your needs, divide your hair into sections and start straightening. Use a pointed comb to separate a section from the front (this will be your fringe) and give it a different texture.
You can use a curling iron to add movement or make waves with the iron. The goal is for it to have volume and stand out from the rest of the locks. If having your hair in your face makes you uncomfortable, you can secure it with a barrette or a headband. Finish by applying a little hair oil to give it a healthy and shiny look.
#5. Messy Look
The messier, the better! Jennifer Lopez's favorite hairstyle is a must if you want to look young, fresh, and full of style.
Not only is it perfect to make you look taller, but it will also give the impression that your face is smaller, and it will distract attention from your forehead. Ideal for making you look fashionable in a matter of seconds.
You just have to brush your hair and make a bun on the top of the head. Roll your hair around the base of the ponytail to prevent it from unraveling over time. Using a pointed brush, pull out a few strands from the front for a more youthful vibe.
#6. Midi Haircut with fringe
To benefit from this look, simply comb your hair with a curling iron or a spray with sea salt. The important thing is that your hair looks Chinese and without frizz. If you don't want to use heat or chemicals, you can naturally curl it using homemade methods.
#7. Accessorize Your Hair
We have all had a bad hair day, but what matters is to know how to handle it without losing your head in the attempt.
If your hair woke up more rebellious than ever and you don't have time to make a very elaborate hairstyle, the best thing you can do is to style your hair with accessories.
Adorn your hair with an elegant tortoiseshell clip or scarf. All you have to do is divide your hair in half, place the fabric between your fringe and your forehead, and that's it! Your face will look much smaller and brighter. Choose a floral design like Jacqueline Bracamontes. It looks modern and very feminine.
In addition to helping you save time, these options will keep you looking outstanding and flawless at any time of the day. Dare to try one of these hairstyles and get ready to look more beautiful than ever. Try it! The results will surprise you. Yass, queen!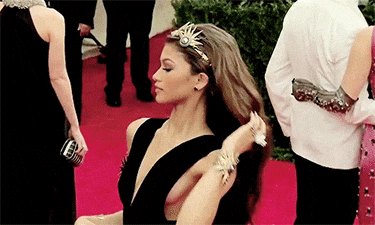 Do you have any other useful advice? Write it in the comments.