Weather seasons are shifting and we now have more time than ever to enjoy a manicure. At the very least, we can take advantage of this isolation forced by the COVID-19 crisis to pamper ourselves a little! Here are some distinct manicure and nail color trends for fall and winter 2020!

1) The Multicolored French Manicure
It's not the first time that we see two styles getting mixed on nails! After the French manicure's resurgence last fall and the multicolored nails trend, we are applying the technique through a gradient of colors this season.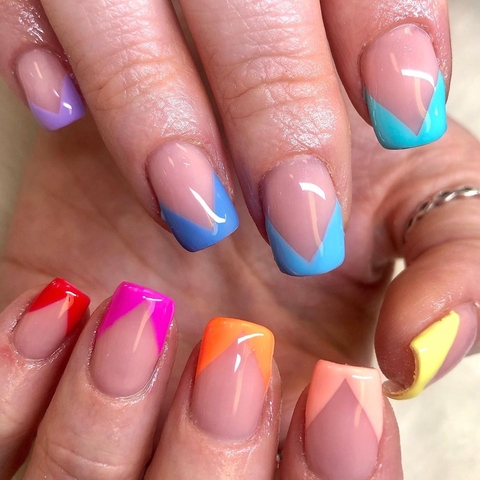 2) Timeless Classics: Red and Black
When one thinks of fashionable fall/winter manicure colors, as is the case every year, it is almost impossible to miss out on red, black and burgundy. These colors never seem to be outdated, whether for the hands or the feet. What's more, these elegant colors look great on all skin tones and instantly give an elegant and well-groomed look.
3) Shades of orange
The orange coated manicure has been an undeniable success for the winter fashion weeks. So if you are still seeking the perfect color for your September manicure, this is the ideal choice for you! Particular attention should be paid to the soft shades of orange.
4) Pearl White
In all previous seasons, white has hardly ever left the list of manicure trends. For this season, we'll see pearl shadow shades or white with a slight pink tint. This color is also amazing on light and dark skin tones.
5) Nude Shades
Nude nails are making a comeback as a manicure trend, and this time it has no exception! You can go with classic shades of nudes, including mixed pink, vanilla, and crème brûlée.

6) Neon Manicure
The neon manicure has been with us all summer and will be as popular as ever this winter too! Be it in marble style or small touches (as on a French reverse, for example), the neon manicure looks fantastic and will bring a touch of 80's to your nails.

7) Glitter Nails
Glitter will also help dress up the nails for this season, especially the "thicker glitter", that is, those with a thicker grain. You can also make use of different shades of glitter to achieve a custom color for the nails. Try combining gold and red or blue and silver for a festive occasion!

8) Diamond Nails
Diamonds and other rhinestones will adorn the nails this winter manicures bringing a flashy and chic style. The best nail shape for this manicure is stilettos nails! Impossible to be minimalistic for this nail look. However, if you want to be less adventurous or soften the diamonds' bling side, you can use lila, rose or fuchsia, or even clear polish bases.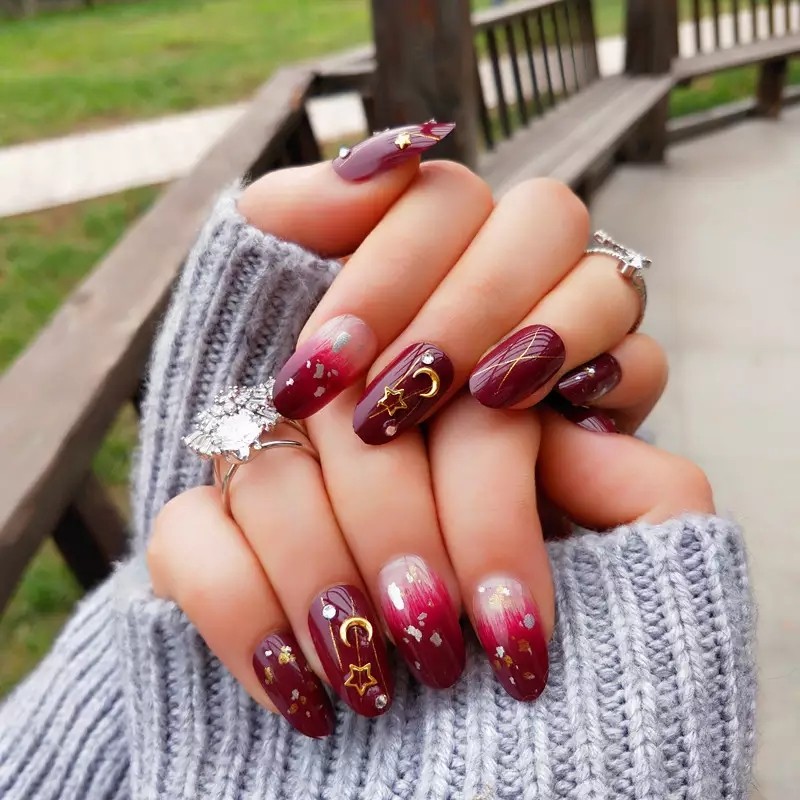 9) Micro French Manicure
The ideal trend for those who like shorter nails! To create the French micro manicure, draw a white line as fine as possible at the end of your nails. Discreet, chic, and refined! You can also opt for the double version by drawing another fine white line at the cuticles.

10) Flower Nails
We experienced a lot of foliage on the nails over the last two years. Now it' s time to move on to the next step: flowers at the tips! Whether you like playful and straightforward patterns or more complex and sophisticated ones, anything will look beautiful!

11) Matte Nails
After a couple of seasons tucked away at the bottom of our shelf, it's time to bring out those matte nail polish! A matte coat instantly helps add a distinctive and trendy twist to your favorite shade. It's even better if you choose a pastel color like peach, coral pink, or powder blue.
Which of these nail styles are you considering for this season? Let us know in the comments below!