Think about it. You can lift yourself when you feel a little depressed about anything, with a trendy eye look. A variety of trends have been popping in late 2020, and will look gorgeous on anyone!
1) Pink Mascara
It's time to take a break from your black mascara and experiment with this 2020/2021 makeup trend, a colorful shade on your lashes. If you don't think you can get a bright pink mascara, apply dark blue or green mascara instead. They'll look neutral at first glance, but you'll need to do a double hold.
2) Floating Eyeliner
Here's a little secret. Your eyeliner doesn't always need to be on the lash line. Yes, it may be surprising, but breaking the rules and trying new things makes make makeup fun. So, go for a freehand floating liner look! After you've applied your eye shadow, take your eyeliner pencil and line your eyelid. You can also shape this line in creative ways such as part of an angel's wings or the top of a cloud, for instance.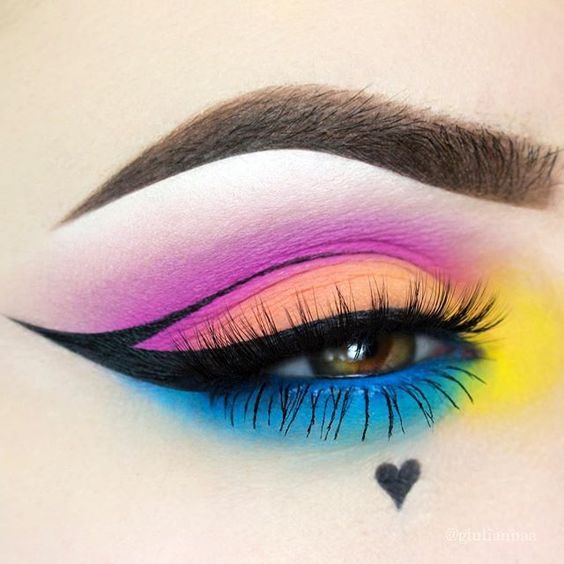 3) Bold Neon Shades
From graphic liner to full shade looks, it's time to use bold colors to make a statement. You can use and combine different eyeshadow palettes to create bursts of color under the eye, a wash of color on the lid, or a graphic liner.
4) Purple Accents
Purple is one of those shades perfect for both warm and cool weather. And since it's very flattering on a wide variety of skin tones, why not follow the trend of wearing it on your lips, cheeks, and eyes?
5) Strategic Shimmering
Forget your matte shadows, especially if it's for a special occasion, you can get glowy eyes! While too much glitter seems glittery, the right amount can instantly brighten the eyes. Tip: Draw a line of glitter along your lash line.
6) Fresh Skin and Accentuated Inner Corners
A little color does a lot of good. Keep your makeup fresh by focusing on clean skin and neutral eyes. Simply add a little color to your eyes' inner corner, which will be just enough to bring out a whole look!
7) Classic Blue Eyes
Blue makeup is finally emancipating itself from its vintage, even old-fashioned side and is coming back in a much deeper and more sophisticated version. The midnight blue with its restful and reassuring tones is also adopted in makeup for eyes, nails and even the lips. Another significant advantage is that blue makeup adapts to all skin tones and eye colors. It's a very easy color to use and wear every day for everyone. Blue is especially suitable for brown eyes, but also for green or light blue eyes.
8) Rosy
A hint of neutral pink on the cheeks or eyelids is a quick and easy way to make the complexion look younger and more vibrant, perfect for countering the cold. It's one of the most adorable trends in light or nude for late 2020, especially in spring and winter.
9) Golden Glamour
Golden glamour eye looks ruled the runways for the fall/winter 2020-2021 makeup trends. A thin layer of gold eye shadow applied to the eyelid, and inner corner of the eye with the crease contoured with a neutral brown eye shadow will look amazing!
10) Sunset Shades
Has it ever crossed your mind that orange eye shadow would be a trend? Well, it is! Sunset shadows are in vogue, and you'll want to wear them too. The way to wear warm, vivid colors is to blend them properly. Blend the shades enough to keep their color but do so in a way that people can't tell where each color starts or ends.
Let us know which of these eye make up look you've tried in the comments below!