Out of inspiration for the hairstyle you're going to opt for? Whether you're a guest, bridesmaid, or queen of the day, here's a gorgeous selection of bridal hairstyles and hair accessories that you can choose from for your big day!
1) Hair Flower Wreaths
A timeless accessory, which can be worn by all brides and ideal for a bohemian chic look, the flower crown can enhance any hairstyle. Our favorite: crowns made with fresh flowers or dried flowers, that also allows you to keep the crown of your beautiful day all your life!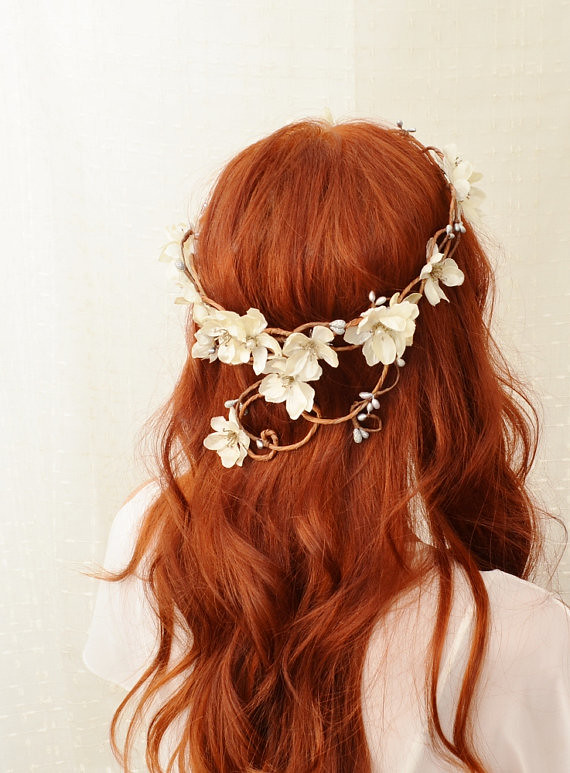 2) The New Hairstyle Trend: Pearls!
As you may have noticed, on wedding dresses, veils and capes, pearls are on trend this season, and bridal hairstyles are no exception! Those on the minimalist side can have some pearls around a gorgeous bun, those who want a bohemian look can mix it into a braid while those who love to be a little bit more extra can pair their hairstyle with pearly pins, barrettes, combs, crowns, etc.  
3) Buns
Buns are one of the most common hairstyles many brides choose to have for their wedding day. It provides a sophisticated and elegant dimension that corresponds to what a woman usually wants for this unique occasion. This hairdo is also open to various styling options and can be enhanced using pretty hair accessories and jewelry. For instance, on the front, you can choose to have some wavy or straight hair strands or one without any hair strands for a more elegant and classier look!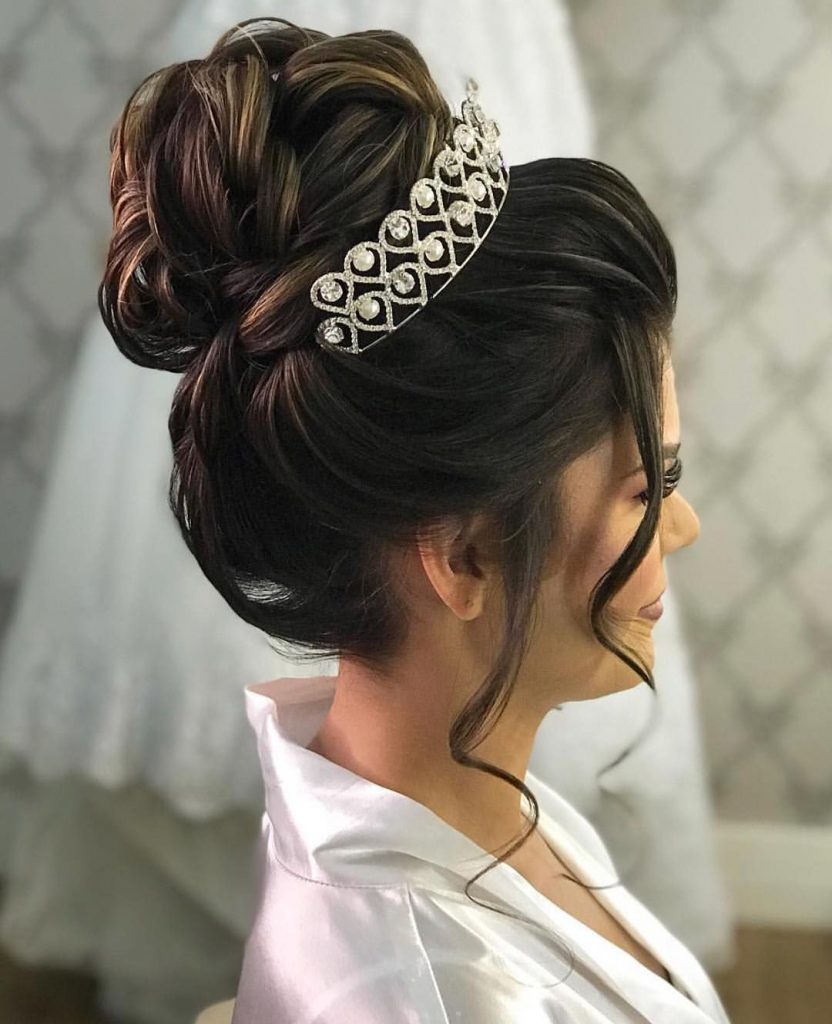 4) Ribbons
Perfect for a quick makeover, the ribbon is arguably the most effortless hair accessory to use. Easy to find and inexpensive, the ribbon is omnipresent at weddings, be it in decorations, in the bridal bouquet, or gift wrappings. Its versatility is a real asset; it is available in various fabrics, colors, textures, and sizes. It can also be braided in the hair, folded, or simply tied at the top or bottom of a braid for a very subtle result.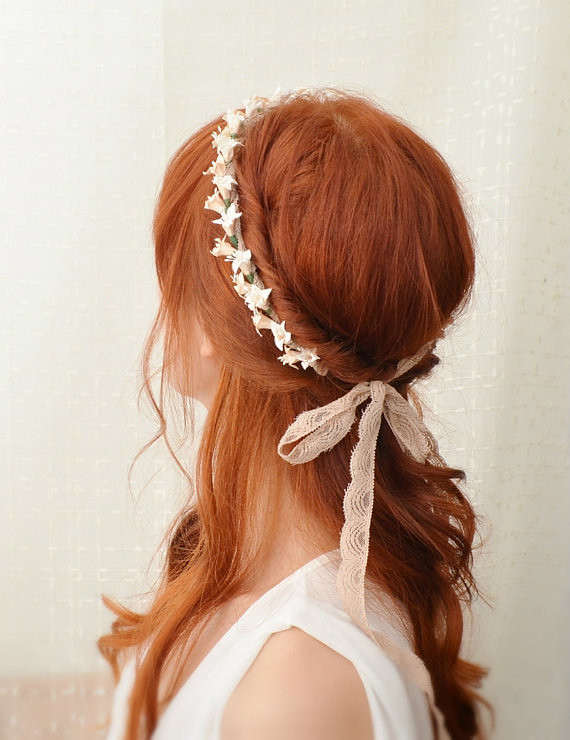 5) Braids
Why not? This trend is relatively new, but braids can be extremely elegant for a wedding ceremony. The advantage of braids? They allow you to obtain an exquisite result quickly, even when they are worked loose/relaxed! They come in various styles, including French braid, crown braid, twisted braid, African braid, etc., and are always beautiful even without the addition of accessories. For instance, a side braid on long hairs can give off a romantic and feminine style, worthy of a princess! Choose the right hair tie or a tiara since it's your wedding! 
6) Low Buns
A simple hairdo, which will suit the brides having at least shoulder-length hair, the low bun should be tight enough to last all day. Like the high bun, it will be easily adaptable to all styles. A low bun pulled and held firmly by pliers will be ideal for a more traditional look paired with a comb or veil. A more loose and bohemian updo will easily accommodate pretty accessories or flowers. This hairstyle will be more particularly suitable for brides wishing to wear a veil on their wedding day. The bun will allow them to place and then remove the veil without ruining their coiffure during the ceremony.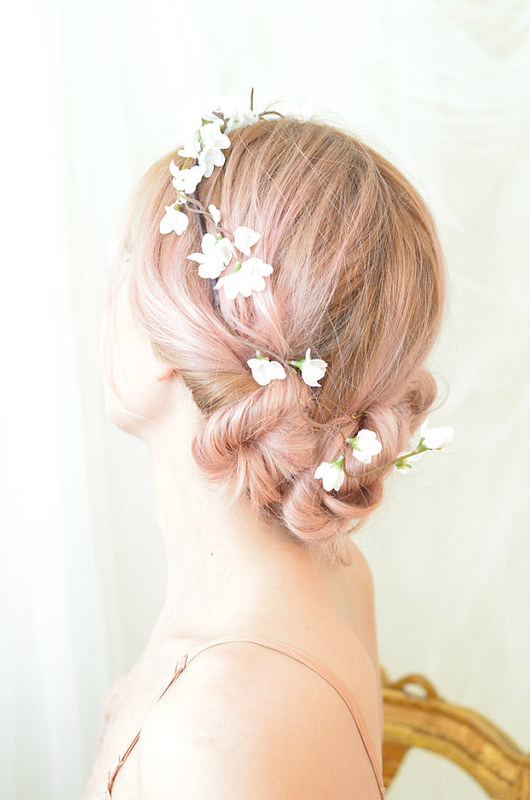 7) Brides With Short Haircuts: A Blusher Veil
Yes, blusher veils are too pretty! With their vintage look, they give the bride a retro and trendy look. These very short veils can style the bride, regardless of her hair length. From the bob haircut to shoulder-length hairstyles, this accessory will look fabulous!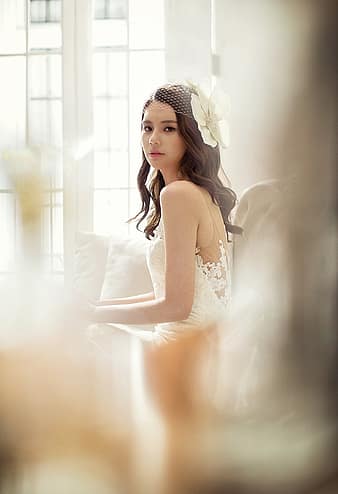 8) Headbands and Combs
Headbands and combs are the allies of classic romantic weddings. If you are looking for a rather discreet wedding hair accessory, choose wedding headbands. They allow you to enlighten your bridal hairstyle gracefully. These are also suitable accessories for religious ceremonies. Nothing could be more elegant than a small rhinestone headband or a set with crystals, slipped into pretty silky hair!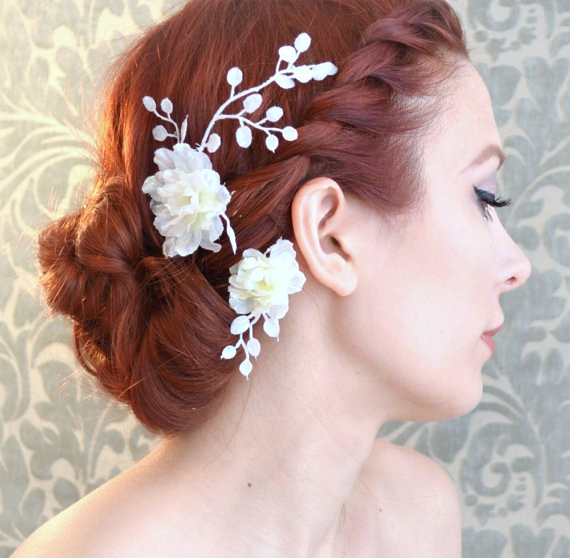 9) Be Natural
And finally, why add more? If some brides love to have hair jewelry and flower crowns, some prefer a simpler hairstyle and can have a stunning coiffure without any additional accessories. Be it a ponytail, braids, or simple loose hair; you don't have to enhance the hairstyle in any way. Play with your hair, with the textures and their volume; you won't be any less elegant and splendid! If in this way you feel more comfortable, then do not hesitate!
Hairdressing is an essential step during the preparation of the wedding. This is why you should not hesitate to call a professional! Besides, it will allow you to be pampered. The VKA Ladies Beauty Lounge specializes in bridal hairdos, and they may have some more creative coiffures and the ability to create the look that you want for the most important day of your life!