Everyone dreams of long, luscious, and Rapunzel-like hair, well not everyone, but most girls do. Hair is the most precious and elegant part of any women's personality, or that's what most people think! Well, to be honest, long hair or short hair, the most important is having a hairdresser who knows how to care for your hair and how to re-invent your hair using the best hairstyles and products available. So, what happens when you choose the wrong hairdresser, well, have you seen Count Olaf, you will end up resembling him! To prevent this situation from ever happening, here are some tips in choosing the right hairdresser who will help you in knowing your hair style and hair lifetime.
Let's tie up the loose ends!
Consider having a consultation
It is important that you meet the hair stylist, prior to your hair appointment. You need to meet them face-to-face so that you get a real sense of their personality, as well as gleaming any suggestions that they may have regarding your hairstyle and planned cut. Ask them questions and tell them what you would like.
Have a look through their portfolio
This is another important thing that you need to do prior to booking. Check out their professional portfolio. This can be done by checking online. The first thing that should be noted is that the portfolio should be up to date and current. You can very easily check out their recent creations and see if they are suited to dealing with your hair type and intended style or cut. Their portfolio should be on the salon website or their social media account.
Experience
Hairdressing is all about experience. More the experience, better the professional will be able to treat your hair. Hairdressing is not only limited to cutting and trimming. It even entails application of different products in order to give it the right shape and appearance. Hairdressers that are experienced know how to treat different hair qualities. They are competent when it comes to giving your hair the right treatment in all forms.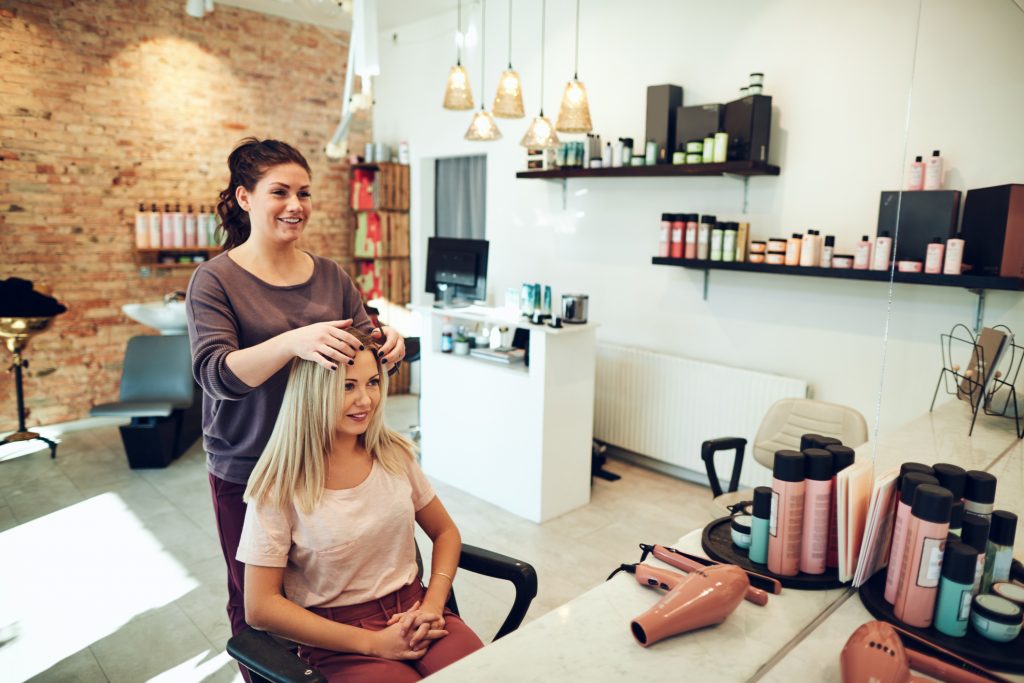 Qualification
There is a misconception that hairdressing doesn't require any form of qualification. This is not true now. Hairdressing has evolved into a large industry and most of the professionals out there have gone through some sort of training. Make sure you inquire into the qualifications the hairdresser possesses in order to get an idea about the competence. Make sure the hairdresser has gained some sort of training from a qualified institution. Better the qualification, higher the chances are of your hair being treated well.
Reputation
Reputation is an indicative factor of the competence that any professional possesses. Make sure you get to know how well reputed the professional is. Ask your friends and families about the hairdresser they visit. This will give you an idea about the different hairdressers that are working in the market. You can even go over customer reviews on the Internet in order to get an idea about the pros and cons of different professionals.
Products being used
As mentioned above, hairdressing is not only about cutting or trimming the hair. It depends largely on the products that are being used by the professional on an individual's hair. There are many hair products available in the market. Make sure the professional has access to the right products that can work on your hair in the right manner. Better the products are, higher the chances are of your hair being treat well.
Price
Price is the final determinative factor to consider. Each hairdresser will have a different price depending on the services being offered, qualification he possesses and the experience. Before getting an appointment, you need to know the fees being charged. Remember that pricing is always better with the best service.
Choose a Hairdresser with the Right Skill Sets
Once you have found the right salon try a few of the stylists. That way you can find the stylist that suits you the best. The best stylists and salons are always stretching and challenging themselves, so stay abreast of new styles and techniques. Therefore, you will find that award-winning saloons are the ones that provide the best service and the greatest choice.
The Bottom Line
Choosing a good hairdresser is of immense importance today. It has become difficult to know about good hairdressers. However, above are some of the important factors that can be considered in order to make the right choice.
Head to Gladys Beauty Saloon, they offer a wide range of beauty services, including, hair care, styling, waxing, threading, manicure and pedicure, facial treatments, and more. They are based in three locations, Al Barsha, Dubai Marina, Motorcity, Jumeirah Village Triangle, and Studio City. They tailor their treatments to what is better for you, as a team of professionals, they strongly believe in the importance of individual styling.