Before looking at the things you can do to repair damaged hair, let's start by looking at the causes. Knowing what caused your hair to become damaged ensures that you don't make the same mistakes in the future.
Causes
There are several things when used improperly, that can damage hair.
1. Hair Dye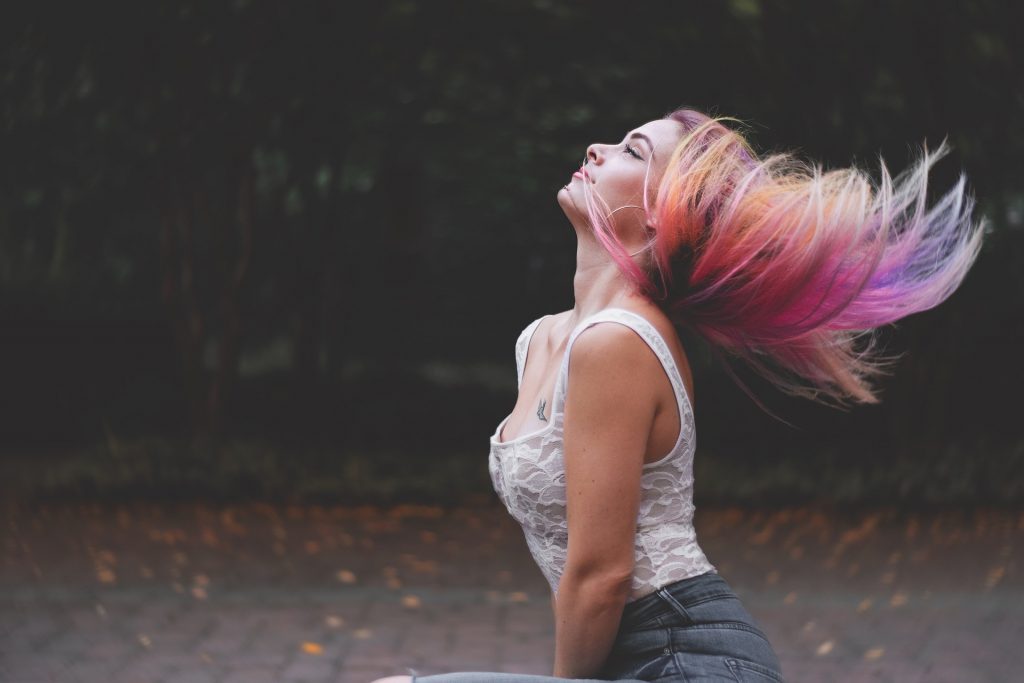 Chemical dyes, and those that you can get at the supermarket especially, can remove hair's natural moisture, quickly making smooth hair coarse to the touch.
2. Bleach
Bleach is a chemical product used on dark hair to remove the natural hair colour of each strand to turn it lighter. The bleach actually dissolves the melanin that gives your hair pigment and can lead to dry and fragile hair.
3. Heat tools
When styling hair, we often resort to heating tools. But using these tools too often and at high temperatures can actually cook the hair fibres and raise cuticles and porous hair.
Let's Start by Looking at How We Can Limit Further Damage
The Dos:
Let your hair down: Keeping your hair up in a ponytail all day can damage your roots. Also, avoid sleeping with any sort of accessories in your hair.
Eat a Balanced Diet: You've heard this a million times by now, but really, a diet loaded with whole foods like fruits, vegetables, and whole grains will have a positive impact on your hair.
Get Professional Treatments: Even if salons are expensive, certain things are better left to professionals. They not only know how to limit damage, but they can also give your hair the highest possible concentration of active ingredients they need. So if the DIY regimen you've trying for a few weeks is not working, it's time to see your stylist.
Indulge in Rich and Healing Hair Masks: Hair masks have a high content level of reparative and moisturizing ingredients that can penetrate deeply into the hair surface and repair the gaps and damage on the surface of your hair.
Start looking at Leave-Ins: These are the round-the-clock bodyguards your hair needs right now. There are leave-ins products on the market that can nourish your hair while not giving you a greasy look. Talk to your hairstylist for advice if necessary.
Protect Your Hair from the Sun: Too much sun exposure can lead to brittle and dry hair. To stop the sun's UV rays from harming your hair, wear a hat or use a UV protection hair spray.
Always Rinse Hair with Cool Water: Hot water harms the hair by open or lifting the cuticle of the hair. Instead, always rinse shampoo and conditioner with cool water.
Moisturize: Moisturize your hair well, especially when you plan on bleaching them in the near future.
Omega-3S: omega-3 fatty acids are perfect for keeping hair moisturized. You can choose between borage oil, evening primrose oil or flaxseed oil.
The Don'ts
Use Heat Tools to Dry Hair: Avoid heat altogether. Instead, air dry the air. You can remove excess water by gently wrapping a towel around your hair after a shower. Don't rub. Simply let it absorb the majority of the water, then remove the towel and let the hair hang free. The air will do all the work for you. If you are in a hurry, you can hold the blow dryer 15 centimetres away from your hair and move it continuously.
Dye Often: Instead of dying the hair frequently, extend the time between touch-ups by leaving 8 to 10 weeks between dye jobs. The best way to ensure you don't have to dye often is by taking care of your hair, so the colour doesn't fade away fast. Try washing the hair less frequently. And when you do wash, only use shampoo and conditioner that have been formulated for dyed hair.
Bleach Frequently: Of course, the best option is to not use any bleach at all. Regardless of how often you use it, bleach will always damage your hair to some degree.
Not Taking Adequate Measures Before Swimming: More than just turning your hair an unpleasantshade of green, chlorine used in swimming pools can strip moisture from your hair and leave it feeling even more brittle and coarse. To avoid this, rinse your hair before going in the pool and wash it thoroughly as soon as you are done. There are even specially formulated swim shampoo and conditioner available on the market now.
Using "Long-Lasting Hold" Products Frequently: These products can dry out your hair. Brushing or styling your hair once you've applied them can also cause your hair to break.
Home Remedies You Can Try
Try using Oils: Olive, coconut, jojoba, sweet almond, argan and sandalwood oils are all wonderful elixirs for damaged hair.
Rice Water Rinse: Rice water contains an ingredient, inositol, that help repair damaged hair.
Apple Cider Vinegar Rinse: ACV rinse is perfect to balance the pH of your hair.