Makeup is an incredible effect for camouflaging imperfections that enhances the best features, and can even make your face look thinner. To make your face look thinner, there is no need to go to the gym, instead you can use makeup to have a slimmer face. Well, if you use the right products and techniques, then you can totally skip that early morning workout. If you have seen celebrities and influencers looking completely unrecognizable without any makeup on, then you should know that there are some transformative techniques that changes the look overall. If you are not familiar with the concept of this, then here are 10 makeup tricks that will slim down your face.
1. Contouring made easy – If you always thought that contouring is complicated as a process and you've just ignored it. We help you understand it in the simplest way. It is basically making use of the concept that dark shades cover up the problems areas and lighter shades enhance features. It is recommended that you invest in a matte bronzer or contour colors that are a shade or two darker than your skin tone and have a luminous highlighter. Use them to what you want to slim down and what you want to accentuate. Blending is the key to make it look less made-up and natural.
2. Slimmer cheeks and killer cheekbones – Make a faint pout and sweep on your contour shade with your brush from the center of your cheeks and towards your ear in a diagonal line; try the same with a blush with brown undertones. You cheekbones can look sharper according to how high you place your contour color. Blend it well. Apply a bit of highlighter on top of your cheekbones and blend it to accentuate them. Remember darker colors on the side can help narrow down a wider face.
3. Define your jawline – Want to make your chin look more round or more pointed, then do try this! Start by dusting on your bronzer or darker color along your jawline by blending it well to make it appear more sharper and more defined. Do try that if you have a problem with a double chin life!
4. Fake a thinner nose – Nope, you don't need to think about plastic surgery when you can be a makeup genius. If you would like your nose to appear slimmer, swipe the darker colours down the sides of your nose, stop above your nostrils and blend. Then, blend highlighter down the bridge of your nose in the center to help it look sharper rather than wider. Contouring powder or a dark concealer applied on both sides of the nose then gently blended in will instantly make your nose appear more narrow by creating a fake 'shadow'.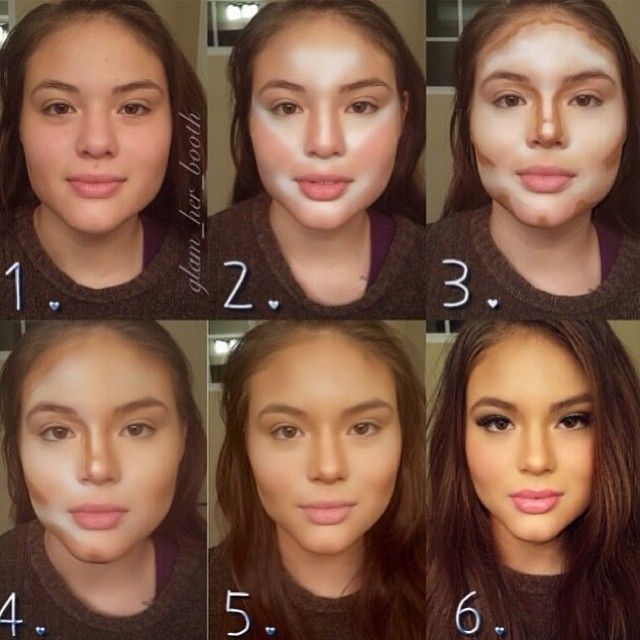 5. Play on with your brow game – Remember the time when thin brows were the hype! Well, that's no longer the case now. Your brows play an important part in how slim or round your face looks, it accentuates your look. Your eyebrows need not to be super thin nor too thick and should have an arch in the middle. Arched brows help elongate your face as well as slim down a round face.
6. Start the highlight from the center – Use a highlighter down the center of your face as it plays with light to take attention away from the width of your face. It helps you gives you a glow. Always start by blending the highlighter between your brows, then down the bridge of your nose, and above the cupid's bow and in the center of your chin.
7. Emphasize on your eyes – Well-defined eyes are the catch for anyone to fall for! They draw attention away from wider parts of your face. If you don't know how to do it, then play up with your peepers with a well-drawn eyeliner, mascara and eye-shadow. Define your eyes more than your lips as fuller lips can make your face look rounder. Using a lip liner in a natural shade, draw on a slightly higher cupid's bow than your natural one, which will have an elongating effect on your face whilst also making your pout look more plump.
8. Don't ignore your forehead – With a dash of contouring on your forehead, you can add the finishing touches that will give you that killer bone structure. Do apply your contouring shade on your temples and blend it upwards as well as along your hairline. It makes your face appear more angular, giving off that super model effect.
9. Play with your hair look – When doing makeup, don't forget your hair! Go for a side part hair do as it gives more focus on other parts of your face. A middle parting will make your face look rounder. Always go for a face-slimming hair part by lining a comb up with the arch of your eyebrow.
10. Finish off with a mist – A great way to set your makeup is to set it with a mist of rosewater spray. This will hold on your makeup whole day as well as adds to hydration.