Essential oils have been popular therapeutic and medicinal treatments for a long time. They can be used to help you relax and unwind, clean cuts and scrapes, and to soothe and moisturize the skin. Most essential oils are too potent to apply to the skin directly, but they can often be used topically if they are diluted with another oil, known as a carrier oil. Here's a quick look at some of the best ways to use essential oils in a beauty routine. Oil is not something that you should be scared of especially when it comes to your skin care. Your body naturally produces oil sebum as a way to lubricate your hair and skin. It is proven that face oil adds a protective layer to your skin and locks in hydration.
For Dry Skin
Dry skin can pretty much benefit from any type of oil but oils that are richer in oleic acid because they are more hydrating and richer than other types of oils are perfect for dryness. Oils rich in oleic acid include sweet almond, avocado, and olive.
As the weather gets colder, dry, flaky skin can become unbearable. Address this problem with moisturizing essential oils.
Chamomile Essential Oils – Chamomile is a natural healing plant that has been used in so many ways for centuries. As an essential oil, chamomile will soothe and moisturize dry, itchy skin and improve your skin's overall health.
Rose Essential Oil – Derived from fresh roses, this essential oil not only smells beautiful, it offers tons of skin benefits! For starters it will help reduce skin irritation, promote better skin health and most importantly moisturize your skin.
Ylang Ylang Essential Oil – Exotic and sweet, Ylang Ylang essential oil is a gentle antiseptic that will help keep your skin free of bacteria. Ylang Ylang is also known for its moisturizing properties.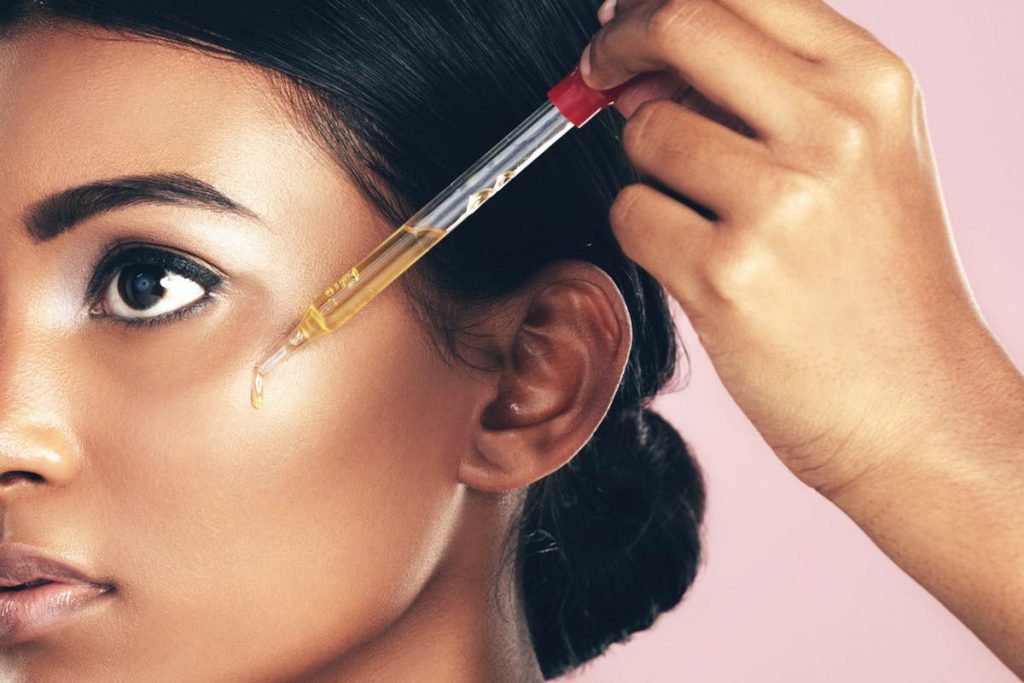 Get control over your oily skin and acne with these essential oils.
Geranium Essential Oil – Derived from the sweet-scented Geranium flower, geranium EO works to improve and regulate oil production. This means less shine during the day and fewer acne breakouts.
Tea Tree Essential Oil – Tea Tree oil is one of the most talked about and used essential oil for acne-prone skin. Tea Tree oil is well-loved because it's able to regulate oil production, and has antibacterial properties that get rid of acne-causing bacteria.
Rosemary Essential Oil – Rosemary EO is known for doing wonders for hair loss, but it's also great for oily skin. This balancing essential oil has antibacterial and antiseptic properties that will take care of excessive oil, acne, whiteheads and blackheads.
Combination Skin

Sometimes dry, sometimes oily, combination skin is pretty much all over the place. So find some peace of mind and balance with these essential oils!
Sandalwood Essential Oil – Extracted from the heartwood of the tree, Sandalwood EO will perfectly deal with hard-to-handle combination skin. This balancing oil will minimize large pores and tame oily spots, all while renewing the skin.
Bergamot Essential Oil – Bergamot Essential Oil is simply ideal for unpredictable combination skin. With a few drops of Bergamot EO you'll be able to even out your skin tone, reduce stubborn oily spots and brighten dry, dull areas.
Lavender Essential Oil – Loved for its relaxing fragrance, Lavender Essential Oil will gently correct combination skin. It's able to calm stressed-out skin, reduce acne and fight wrinkle-causing free-radicals.
7 Ways to Add Oil to Your Routine
With moisturizer – This is an easy way to incorporate oil into your skin care routine. Apply lightweight or quick-absorbing oil before moisturizer and heavier (slow-absorbing) oils after the moisturizer. Another way is to simply add a few drops to your moisturizer and reap the benefits of extra hydrated skin.
With foundation – Adding a few drops of oil to your foundation can give you a more natural look. And pairing your foundation with an acne-treating oil with salicylic acid will add that much needed skin clearant.
As a night cream – Applying some skin rejuvenating oil before your sleep gives the oil plenty of time to rejuvenate and freshen up the skin by morning. Skin is most receptive to repairing itself from daily stressers at night. Therefore a night oil will promote a softer brighter complexion.
After shower – Oil is not only good for the skin on your face. Remember to moisturize and rejuvenate the skin on your body too. Right after you get out the shower massage your body with oil to lock in the moisture from the bath. Water cleans but it also strips your body of moisture so sealing it immediately after you get out the shower helps keep your skin from drying out.
Dry air environments – Using some treatment oils on a plane is very beneficial because your skin is being exposed to extremely dry air sucking the moisture out of your skin. The same goes for the winter time when skin is driest due to the climate. Using oils repair the moisture lost from these environments.
Anti-aging
Add these wrinkle-fighting essential oils to your favorite moisturizer to keep your skin looking youthful.
Carrot Seed Essential Oil – Improve the overall tone and appearance of your skin with Carrot Seed Essential Oil. Rich in antioxidants, carrot seed EO will reduce inflammation, wrinkle-causing free-radicals and work to regenerate skin cells.
Frankincense Essential Oil – Ideal for all skin-types, aromatic Frankincense EO is known for helping with new cell growth, tightening the skin and minimizing wrinkles. It will also even out your skin tone and reduce the appearance of annoying large pores.
Patchouli Essential Oil – Patchouli Essential Oil may have a bad rap, but it's great for aging skin! This EO is known for promoting new cell growth, smoothing out wrinkles and fine lines. Patchouli oil is also packed with antiseptic, antibacterial and anti-fungal properties, making it ideal for those who are also dealing with eczema, psoriasis, and acne.