1. The ''No-Makeup'' makeup look
Minimalism is everywhere in the beauty industry this season. The natural makeup look is superseding heavy makeup. Also called the ''No-Makeup'' makeup look, it creates an illusion that you are makeup-free. This type of makeup is intended to enhance a person's beauty using only a few products, that is, concealer, lip balm, blush, and just a hint of mascara. With the proper products and a light hand, here's how you can obtain this look.
As usual, well-prepped skin is essential! The skin gets dry and dull during winter, which makes it harder to pull off a flawless makeup. First, gently exfoliate your skin making sure to moisturize it. Allow the moisturizer to soak in for a few minutes before applying your SPF cream. Forget about your foundation, instead opt for a creamy concealer that you can use smoothly to even out the skin tone. Take a small fluffy brush to apply the concealer for an airbrushed finish.
To define the eyes, use neutral eyeshadows over your lids and apply a thin layer of black mascara to your eyelashes. To create a fuller effect, you can also pat some shimmery white eyeshadow to the corner of your eyes and use a beige pencil on the lower lash line. These little tricks will also help to erase tiredness, which is often more apparent from the eyes. Lastly, brush some eyebrow gel to complete the eye-look.
Next, dab some pink blush on your cheeks to liven up the complexion. A creamy formula blush works better than a powder one for the ''no-makeup'' makeup look. It allows a buildable color to achieve the perfect sheer flushed cheeks. Besides, creamy blushes can be applied using your fingers. Easy-peasy! For the most natural glow, use a liquid highlighter on your cheekbones, the bridge of your nose and across your cupid's bow to complement your features.
Finish off this simple winter look using a tinted lip balm to give a delicate and subtle color to your lips. As an alternative, you can apply your regular lipstick using your ring finger to create a lighter touch and a pretty stain. This will add a pop of color to your lips while keeping it moisturized. You are now ready for the perfect ''no-makeup'' makeup look!
2. The classic winged liner
Winter is the perfect time for eyeliners since your liner will not be smudged by sweat during the daytime. Black liquid eyeliner will give your eyes the right texture and shade they need to look more defined. Use the edge of your lower lash line as a guide to draw your winged liner. If you're a beginner, you can draw dots and connect them slowly. To prevent your liquid eyeliner from smudging, use a waterproof one. Add a bit of eyeshadow or a vibrant liner paired with a nude lip if you want to intensify the look. You can also make a custom eyeliner using a small wet brush and any eyeshadow of your choice. Finally, clean up any messy areas using a soaked Q-tip. This simple look also adds a touch of glamour and is the perfect go-to look for any occasion, be it a brunch or a date night. It might take you a while to have a flawless eyeliner but don't be discouraged!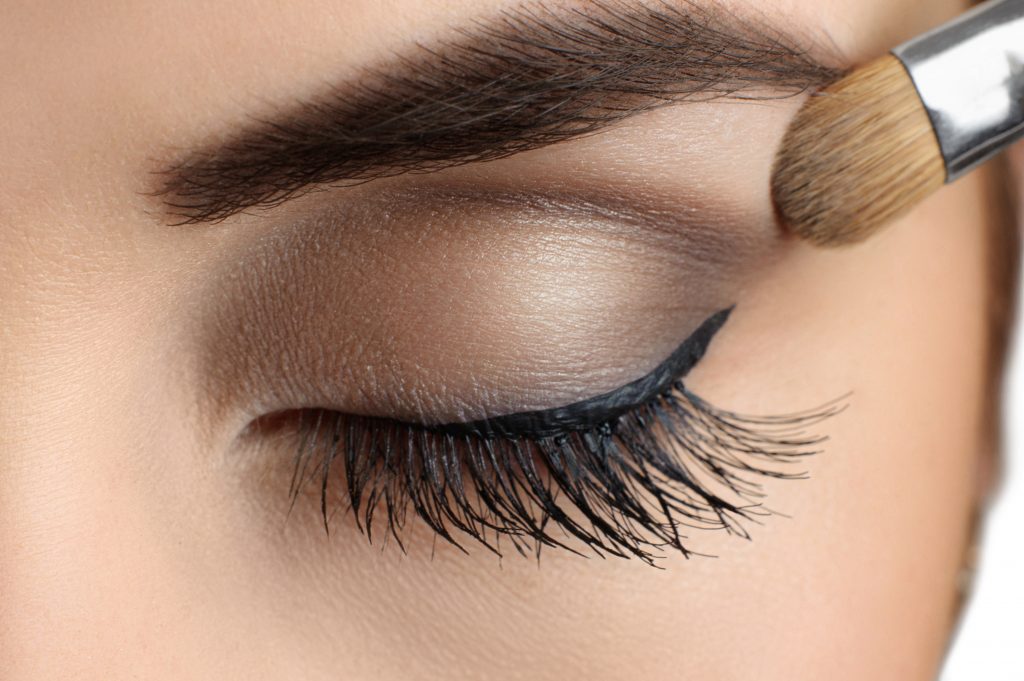 3. Bold red lips
With all of its dark days and early night falls, winter is the ideal season to add a bit of color to your make up routine. Timeless and classic, a bold red lip can never go wrong! Additionally, this color works on any skin tones. First and foremost, applying a lip balm is crucial to moisturize the skin. If your lips are feeling too dry from the winter air, using a lip scrub can smooth things over. Then for a precise application, outline your lips using a lip pencil. Once that is done, all it takes is just one swipe of your favorite red lipstick to look chic and daring! A matte red lip gives you an old-school elegance and lasts all day. Alternatively, a creamy or gloss formula red lipstick is more on the hydrating side and gives you a natural shine. For a long-lasting lipstick, place a tissue over your mouth and gently tap some translucent powder. No matter where you're heading, a red lipstick adds a pretty finishing touch to your outfit and the right amount of glam for any event!
Let us know which of these trendy winter makeup looks you tried in the comments below!