People often assume that when you are on a diet, you have to stay away from meat. That's not true at all. In fact, protein is an essential nutrient and should be present in your diet. So, here are some budget-friendly meat recipesyou can add to your healthy dinner routine.
Pork Loin Steak With Marinated Onion Sauce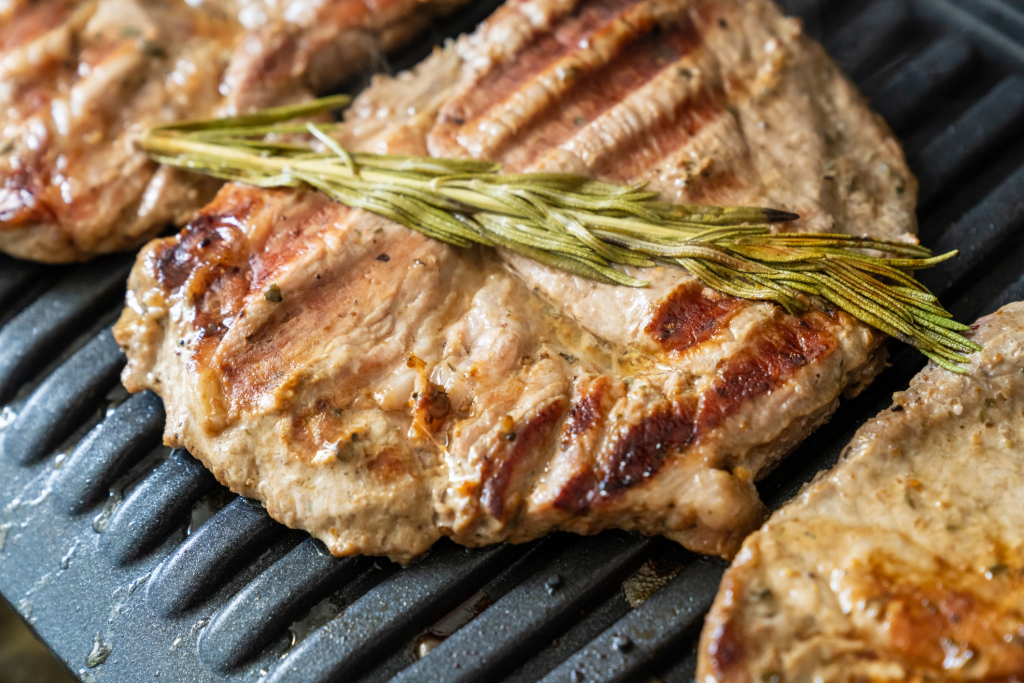 Ingredients you'll need:
1 or 2 onion
2 pieces of pork loin
1-2 tablespoons of olive oil
1-2 teaspoons of sugar
2 tablespoons of distilled white vinegar
½ teaspoon of salt
Black pepper (amount depends on you)
Baking oil (amount depends on you)
Instructions to make the Pork Loin Steak with marinated onion sauce:
Step 1: You start by cutting the onion into thin slices and combining them with the distilled white vinegar, salt, sugar, black pepper and olive oil in a large bowl. Then, put the bowl in the fridge for around 1 hour.
Step 2: Take the pork loin out of the fridge and give it some time (around 20-30 minutes) for it to come back to room temperature.
Step 3: Now, it's time to marinate! So, start by lightly seasoning the meat with salt and pepper. Then, heat some oil in a frying pan and cook the meat on medium heat for about 2-3 minutes on each side.
Step 4: Once you've turned off the heat, cover the pan and let it rest for 2 minutes.
Additional Tip: This is a necessary step because you want the meat to be cooked more with the residual heat.
Step 5: Once you've sliced the meat into reasonable pieces, put them on a plate and serve with chilled onions.
Reviews:
"It came out really nice and my daughter loved it too!" –From Angie
Boiled and Seasoned Chicken Breast
Ingredients you'll need:
Around 300-400 grams of chicken breast
10 cm of radish
50 ml of water
2 stalks of small chives
1 teaspoon of sugar
1 teaspoon of salt
Instructions to make the Boiled and seasoned chicken breast:
Step 1: You start by slicing the chicken breast into thin slices and then marinating them with one teaspoon of sugar and one teaspoon of salt. After the seasoning phase, leave it for about 5 minutes.
Step 2: Now, peel the radish and then grate it finely.
Step 3: Take a small pot, put the grated radish in it and pour some water over it and bring to a boil. After some time, you may add the chicken and let it simmer until you obtain a change in the color of the chicken.
Step 4: Once you've served the chicken on a plate, top it off with some chives and ponzu sauce (the sauce is optional).
Reviews:
"This is SO easy and tastes SO good! I put my chicken (usually boneless breasts) in the crock pot, cover it with water and add the salt, pepper, onions, carrots, celery (and garlic too) in chunks. Someone else had posted that it is then easier to pull out of the broth when you're done. Unbelievable flavor for both the broth and chicken. And in the crock pot it is absolutely effortless!! Thanks for the great recipe!!" –From Christy
"I just made this today with boneless chicken breasts . Mine came out tasting similar to a pot roast except with chicken flavor instead of beef. Definitely will cook this again! This recipe is good with boneless breasts if you don't have bone-in on hand, though bone-in is obviously going to be better and have a richer favor. For boneless breasts, I used half water, half canned chicken broth. I do recommend adding garlic, either whole or powder, increasing the amount of onion to taste, and cutting the chicken into strips or chunks to help it better adsorb the flavor. The chicken gets more tender the longer it cooks, so you may want to let it cook a while past being done until it gets as tender as you want it to be."- From E