The face and the facial skin are the first thing that people see. So, when we leave our homes you want to present a clean, clear, beautiful looking face. The facial skin unlike other areas of skin on our body is always exposed to the environment and therefore is easily damaged through sun exposure, chemicals, toxins and pollutants. Taking care of our facial skin is very important not only to stay beautiful but also to avoid increased signs of aging, blemishes, or acne.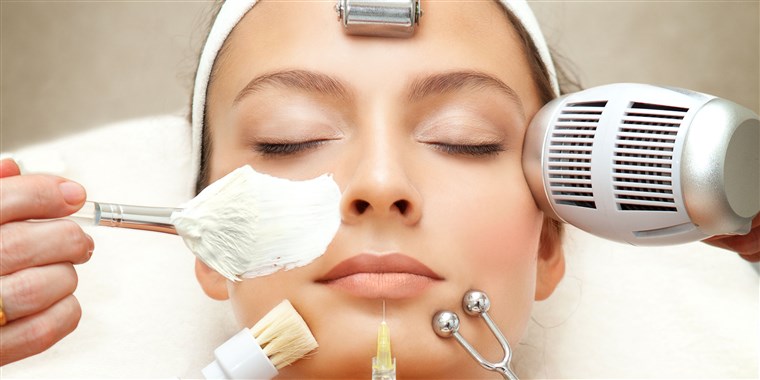 Although, most skin care products and advertisements are directed at women, men should also have a daily facial skin care routine as well. Men's facial skin is just as likely as women to become damaged, dirty, or acne ridden, therefore making sure you properly hydrate, and clean your facial skin is necessary. Most people have been using the same skin care routine since they were young. They found an over the counter face wash that has worked for them and they stuck with it. However, as we age our skin changes. You may need more than just your average face wash to keep up that clear, youthful looking skin.
The best skin care routines involve 4 steps. Diligence and determination are needed to succeed with a great skin care routine. Most people consider just washing or cleansing their face of the daily dirt and grime their best effort to keep their facial skin in good condition. However, it's the other crucial steps that will keep their skin looking young, vibrant, healthy and firm. Although, all four steps are necessary to keep our facial skin beautiful, 2 out of the four steps are not necessarily daily.
The four essential steps to the best skin care routines are cleansing, toning, exfoliating, and moisturizing. Cleansing and moisturizing the face should be done every day in the morning and before you go to bed. This way the face stays fresh, clean and hydrated throughout the day as well as the night.
Cleansing is the first step for proper skin care. Most people clean or wash their face at least one time a day. This step is imperative because it removes dirt, dust, grime, grease and extra oil from the skin. Wet the face and then use a good facial cleanser on both the face and the neck. Massage the cleanser gently into the skin in an upward motion. Then rinse the face with warm water and a soft washcloth or cotton wool. A water-based cleanser is the best for cleaning the face because you can avoid chemicals that may irritate the skin.
Toning is the second step in a facial skin care routine. Toning is usually used in the form of toner pads or wipes. Facial toners are used to remove any traces of dirt, grease, or excess cleanser that has been left as residue on the face. Using a toner every day is an option and some people may even leave it out completely if they feel their cleanser works well enough. A good rule of thumb is to use a toner in your morning facial routine but leave it out of your nighttime regiment.
Exfoliation is a key part of any skin care regiment, however, should not be done daily. Exfoliation should be done once a week at most to remove dead skin cells from the face. Although the body naturally sloughs off dead skin cells on its own, exfoliating helps to speed up the process. Dead skin cells can block pores and cause acne so removing these skin cells in a timely manner can reduce the appearance of acne. However, exfoliation can be harmful especially to the facial skin, if done too often. Normal skin cells are replenished every 3-4 weeks; therefore, exfoliating new skin cells can damage the appearance of your skin.
Lastly but most importantly is moisturizing. Moisturizing the skin is so important because it keeps our skin from drying out; causing wrinkles or cracks and keeps our skin radiant and glowing. Dry skin can be painful, itchy and unappealing to the eye. Skin cells need water to live; therefore, overly dry skin can lead to increased skin cell death. Use a moisturizer specifically for the face. Apply your moisturizer when your skin is warm and damp because this is when the pores are open. Leave some moisturizer on the top of the skin to get the full effect for your skin. Moisturize any time the skin feels dry and after both morning and even skin care routines. Make sure your moisturizer doesn't have any harmful chemicals, fragrances or dyes that can irritate the skin.
Natural skin care products should be used for all skin care needs. Natural products avoid harsh chemicals and dyes that can irritate the skin and cause breakouts. Always use products based upon your own skin type. Test products on your forearm, earlobe or neck before you buy them. This way you can know if it will cause any irritation. Always remember to remove all makeup before starting your skin care routine. Don't just wash away makeup; use proper make-up removers to completely clean the face of makeup residue. Remember to apply sunscreen if there is a possibility you will be out in the sun.
Drop by Bonita Skin Care and Massage in Melbourne, FL. They are dedicated to helping everyone to feel comfortable in their own skin.